Ariana Grande returns to the studio to record new The Weeknd collaboration
Ariana Grande takes a break from filming 'Wicked' to record a verse for The Weeknd's 'Die For You' remix.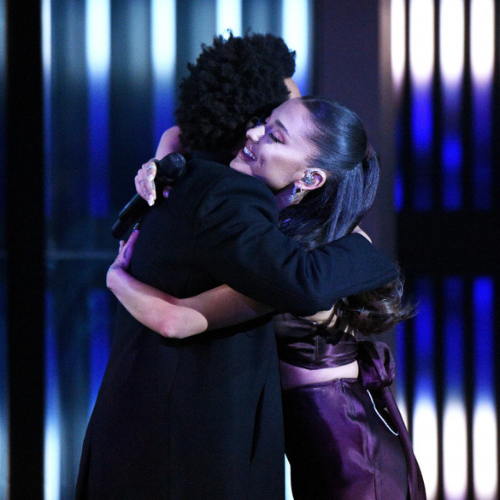 Ariana Grande and The Weeknd
Ariana Grande is returning to music with a remix of The Weeknd's hit 'Die For You'.

The pop superstar - who has not released an album since 2020's 'Positions' - has teamed up with her friend and collaborator on a new version of his 2016 track from the album 'Starboy'.

The '7 Rings' hitmaker posted a viral clip of her editing her verse in the vocal booth on Tuesday (21.02.23).

She sings: "You know what I'm thinkin', see it in your eyes / You hate that you want me, hate it when you cry."

The Grammy winner teased in the caption: "Wrote and recorded a verse for my friend after a 14 hour day on set. This certain exception had to be made…."

Ariana is currently working long hours filming the two-part movie adaptation of smash hit Broadway musical 'Wicked', in which she plays Glinda.

The 29-year-old star and 33-year-old The Weeknd - whose real name is Abel Tesfaye - first teamed up on 2014's 'Love Me Harder' from Ariana's album 'My Everything'. And in 2020, they duetted on 'Off The Table' on her LP 'Positions', while Ariana wowed on a remix of 'Save Your Tears' from his record 'After Hours'.

The 'Dangerous Woman' singer recently reassured fans she is still very much a singer and reminded them of her vocal prowess on a rendition of 'Over the Rainbow' from 1939 classic 'Wicked'.

After being asked by a TikTok user why she is no longer a singer, she replied: "Literally on set filming two musical movies all day every day."

In the video, the 'thank u next' hitmaker - who initially covered the torch song made famous by Judy Garland as a charity single in May 2017 at her One Love Manchester benefit concert after 22 of her fans were killed in a terrorist attack following her concert in the North of England - was wrapped in a pink hooded blanket in an attempt to conceal her Glinda costume and hairdo.

She captioned the post: "wanted to sing you a little something but don't want to sing anything that is not "Ozian" at the moment :) keeping to my little bubble for now … done with lots of love (sic)"