ATLANTIC SESSIONS VIRTUAL FESTIVAL
ATLANTIC SESSIONS VIRTUAL FESTIVAL
13, 14 & 15 November at 7pm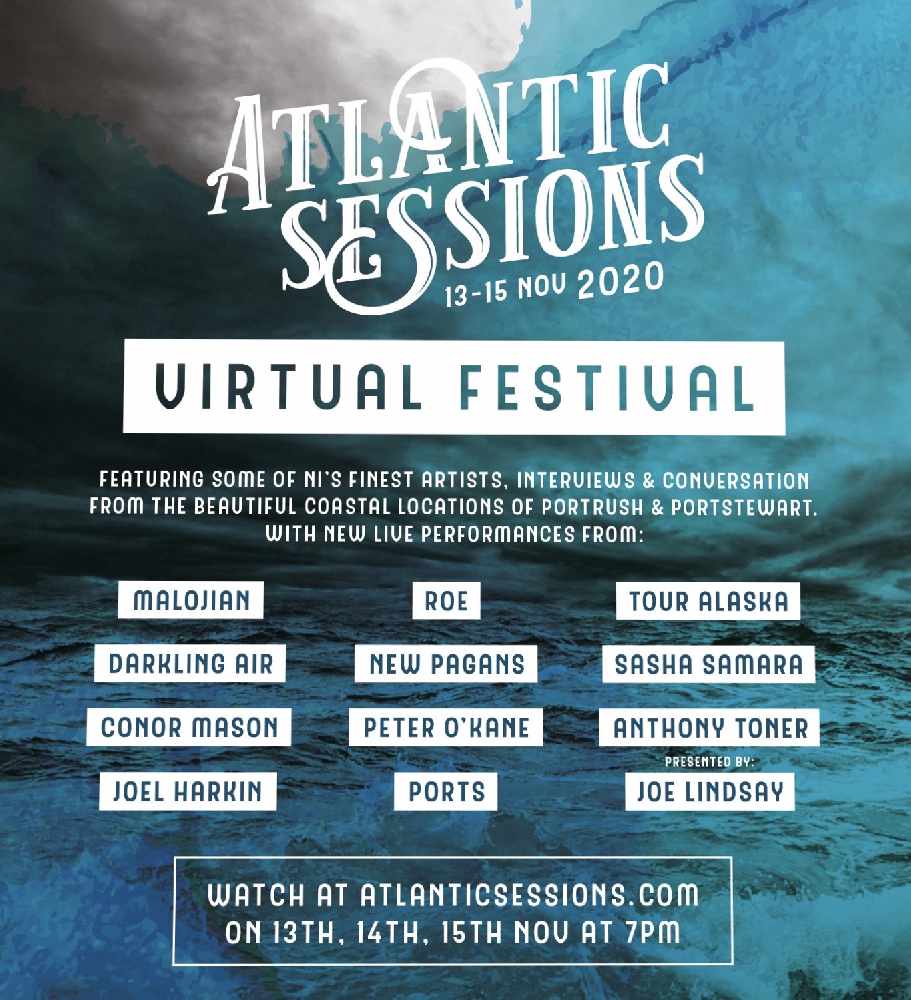 Trailer:
Atlantic Sessions 2020 Trailer/Youtube
Photography by Bradley Quinn
This weekend Causeway Coast and Glens Council in association with Snow Water will be bringing the Atlantic Sessions Virtual Festival to your homes! Artists have been filmed in stunning locations across Portstewart and Portrush during the last weeks, and we have three one hour 'free to view' programmes with exclusive performances, conversations, plus messages and videos from festival family and friends.
Artists featured include Anthony Toner, Conor Mason, Joel Harkin, Malojian, New Pagans, Peter O'Kane, Ports, Roe, Sasha Samara, The Darkling Air, Tour Alaska and the programmes are presented by Joe Lindsay. They feature six of the NI Music Prize 2020 nominees, local performers, plus tell the story of the rich musical heritage of the area, all filmed by the incredible Atlantic Ocean.
Last year saw the largest and most successful Atlantic Sessions to date with over 7000 people ascending on Portstewart and Portrush to see over 100 musicians. Audiences travelled from right across Ireland to hear musicians play throughout the four days. Restaurants, hotels, pubs, coffee shops, music venues and the Town Hall were packed with the festival attracting new customers for them. Snow Patrol lead singer Gary Lightbody said "Atlantic Sessions is an award-winning four day festival with an incredible reputation for its passionate support of local talent."
However this year Atlantic Sessions has been working in partnership with Tourism NI and Tourism Ireland in order to showcase local talent to a global audience, and are excited that for the first time the festival will be viewed across the world.
The Mayor of Causeway Coast and Glens Borough Council Alderman Mark Fielding said:
"Our Events programme has been significantly affected by the coronavirus pandemic and it is very disappointing that we are unable to bring you Atlantic Sessions in its usual format this year. However we are delighted to launch our Virtual Festival featuring some of the finest musicians in the country, performing at some of our most stunning outdoor locations, which you can enjoy from the comfort of your own home. I hope that our virtual festival will still, in some, way bring people together and instill some joy at this difficult and uncertain time. I would like to thank all our host venues and festival goers for their support over the years and for your understanding at this time."
Presenter Joe Lindsay commented:
"We'll miss seeing you this year and we miss live music as much as you do, but we thought we'd do the next best thing and Atlantic Sessions to your homes! We wanted us all to be together, we wanted to experience the power and beauty of music. Together. As we've always done. And we will do again. Until then, keep supporting local music and venues in any way you can."
Snow Water Director Carolyn Mathers said:
"Thank you to our dedicated audiences and venues for their support over the past years as they make the festival. We are excited that this year we can showcase Atlantic Sessions to viewers across the globe. You can continue to support your favourite local bands, singers, songwriters and musicians by buying their music and merchandise directly from their websites. Our creative community is precious and here's to celebrating live music with you on the other side."
We are delighted that some of the fabulous Taste Causeway providers have teamed up with us to offer some delicious treats for you to enjoy alongside Atlantic Sessions. Check them out at www.atlanticsessions.com/
.
Free to view on Fri 13th, Sat 14th & Sun 15th November at 7pm to 8pm at atlanticsessions.com
We're delighted to announce the line-up for our Virtual Festival! We have 3 programmes for you with exclusive performances, conversations & messages from festival family and friends. Book the dates in your diary! 13, 14 & 15 Nov at 7pm at https://t.co/BtyVEp5gaq x @VisitCauseway pic.twitter.com/9RIfekW4ur

— Atlantic Sessions (@AtlanticSess) October 19, 2020
BIOGRAPHIES
ANTHONY TONER
Born and raised in Coleraine and now based in Belfast, Anthony Toner is one of Northern Ireland's most prolific and revered songwriters – once described as 'James Taylor meets John Prine – in a second hand bookshop'. His songs are insightful, heart-filled short stories, peopled with unforgettable characters - and augmented by superb fingerstyle guitar playing. His song 'Sailortown' remains one of the most-requested songs on local radio and he regularly plays to sold out audiences. More recently, he has been building audiences across Scotland with folk club appearances, and earlier this year released his tenth album, a collection of cover songs called Ghost Notes, Vol. 1.
CONOR MASON
Hailing from the historic walled city of Derry, music has been present in Conor Mason's life from a young age. With three albums under his belt, he has now found his space on the musical landscape. 'On The Surface', was conceived, developed and rendered into life over eighteen months in his hometown of Derry. The album was shortlisted for the 2019 NI Music Prize and singles received widespread radio play including BBC Radio1 and BBC 6 music. Understated and subtly refined, it is a record that doesn't reveal all of its treasures at once, but with patience and repeated listens it will reveal itself to be beautiful, rich and assured album. Having toured the album throughout 2018/19, Conor has now started work on the next album which is set to be released next year.
THE DARKLING AIR
The Darkling Air is Rachel McCarthy and Michael Keeney. The music involves voice, piano and guitar and is often wreathed in string arrangements featuring Arco String Quartet. Their work is a channel for melody, song, classical and traditional forms plus a questing, modern aspect.
They released their Music Prize nominated album 'Ancestor,' last November, just before playing an extraordinary sell-out gig in Portrush Town Hall. The songs alternate between quiet, intimate moments and searing emotion. "We're trying to maintain the spirit of adventure," says Michael. "That means something to us." They performed 'Octogenarian Mermaid' for us at Portnahapple in Portstewart and we can't wait for you to hear their stunning performance! The song came out of swimming in the Lough in their hometown in Bangor. Rachel would often immerse herself in the sea before a recording session and was buzzing from the healing waters and open conversations with the kindred souls she'd meet bobbing about between the waves. The duo met when Michael arranged for Rachel's previous band, Farriers. And so The Darkling Air became the project that has compelled and inspired them both. "It became the most natural songwriting partnership I'd ever had," says Rachel. Her cohort agrees. "You have to have a bit of faith that what you do, people will have some interest in, but most importantly, that we have some interest in. These songs come from the truth of the heart.
JOEL HARKIN
Hailing from Letterkenny in Co. Donegal, Belfast-based musician Joel Harkin is an artist who effortlessly distils wanderlust to song. A feature-length snapshot of one of the country's most distinctive and compelling songwriting voices, his long-awaited debut album Never Happy captures his singular alt-folk craft. Recorded with producer George Sloan at Halfbap Studios in Belfast, each of the album's ten carefully-crafted paeans are as the next. Gossamer yet defiant,
intimate yet emphatic, Never Happy takes a step back from the world to observe the joy and escapism in the small print and unseen characters that make it all worthwhile. With singles 'Vada' and 'No Recycling' winning support from the likes of BBC Radio 6 Music, The Line of Best Fit and Clash Magazine, Harkin's rise is confirmed. With Never Happy — from opener 'Old Churches' to the sublime melancholia of closer 'Thought I'd Go Home — his ascent is underscored. "Joel Harkin's curiously imaginative avant pop smothers you in dreams."
Clash Magazine
MALOJIAN
Over the last few years, Malojian has released 4 stunning solo albums, along the way collaborating with some musical legends, including Steve Albini, who earned his chops producing Nirvana, The Pixies etc. His latest album features Joey Waronker (Beck, R.E.M., Atoms For Peace, Roger Waters), Gerry Love (Teenage Fanclub), Jon Thorne (Yorkston/Thorne/Khan, Lamb) and more…But it's Malojian's own voice and songs that sets him apart from the crowd. Malojian's 5th album, which is a collaboration with Grandaddy's Jason Lytle, is nominated for the 2020 NI Music Prize.
"evokes such rich emotions" 8/10 MOJO Magazine
"I absolutely love his music… just beautiful" Cerys Matthews, BBC 6 Music, The Guardian
"I'm completely obsessed" Gary Lightbody (Snow Patrol)
"achingly beautiful" Q Magazine
"the North's best songwriter over the last half decade" Hot Press Magazine
"I really and truly believe we've unearthed a star here and I can't urge you strongly enough to seek out this wonderful album." Maverick Magazine
NEW PAGANS
New Pagans are one of the most exciting and interesting rising acts, both sonically and visually. Their presence has been continuing to build and in 2019 they were shortlisted for 'Best Single' with their track 'It's Darker' and 'Best Live Act' at the 2019 Northern Ireland Music Prize as well as named on Hot Press's 'Hot For 2020' list for their Glacial Erratic EP. As well as 'Yellow Room' being Steve Lamacq's 'Record Of The Week', the band have also received ongoing support from BBC Radio 6 Music and Radio 1 by the likes of Chris Hawkins, Daniel P Carter, Phil Taggart, Huw Stephens and Jack Saunders as well as John Kennedy at Radio X, BBC Introducing, Kerrang Radio, Amazing Radio and more. The New Pagans voice is a loud and important one, with much more still to come for 2021 and beyond.
PETER O'KANE
Peter O'Kane is a drummer and Bodhrán player from Coleraine. Peter starting playing Bodhrán at the age of 11 and by 12 he was performing with his family in their Folk band "The O'Kane Family. The band no longer performs together although they had a one off performance at the "Underneath the Stars" festival in Barnsley in 2019. Peter can currently be found performing with folk band "Tippin it up", blues band "The Juke Joint Blues Band" and other musicians based in the North Coast.
PORTS
Ports are a four piece band consisting of Steven McCool (Bass and Vocals), Mark O'Doherty (Drums), Ryan Griffiths (Guitar) and Conor Mason (Piano). After the release of their first demo 'I'd Let You Win', The band received a flood of fantastic reviews including; 'Flavour of the Month' and 'Ones to Watch' from BBC Introducing which resulted in extensive airplay from BBC Radio 1, RTE and countless others. PORTS rose to prominence in Ireland after an exciting performance at 'Other Voices', Derry-Londonderry (when they stepped in to replace Two Door Cinema Club). After their memorable performance, they were asked to return to the Other Voices stage, this time in London's own Wilton's Music Hall, joined by Villagers; John Grant; SOAK and Imelda May. PORTS spent most of 2014 in the studio recording their debut album, 'The Devil's A Songbird', which was mixed by Dan Long (Local Natives, Queens of the Stone Age). Ports have packed out every time they've played the Atlantic Sessions and we filmed them performing their new single 'Reading in the Dark' at Portandoo Harbour, Portrush. In their career they have had more than 2 million streams on Spotify, featured in MTV dramas Awkward & Teen Wolf and been shortlisted for the NI Music Prize.
ROE
ROE is 21-year-old multi-instrumentalist from Derry, Roisin Donald. Laying down her unique brand of self-styled Dark Indie-Pop, she has been blazing a trail for young female indie artists across Ireland, UK, Europe and beyond. A solo multi-instrumentalist on stage, ROE has showcased her live prowess at some of the biggest Music Festivals around the world including Reeperbahn (Germany), The Great Escape (UK), SXSW (US), NH7 (India), M For Montreal (Canada), ESNS (Netherlands), Primavera (Spain) as well as performing on the BBC Introducing Stage at Glastonbury in 2017. The winner of "Best Emerging Artist" 2018 Northern Ireland Music Prize and recipient of the PRS Foundation Momentum fund for 2020, ROE has also been the voice of a UK wide advertising campaign to promote her hometown of Derry and most recently had her music used as part of a TV and radio campaign for BBC Music NI, ITV's 'The Only Way is Essex', Channel 4's 'Made in Chelsea' and Netflix's 'Terrace House'. In 2019 ROE was featured on BBC Radio 1s "Introducing Tips for 2019" by Huw Stephens, included in RTE2FMs "Rising" list, and supported Snow Patrol on their arena tour around the UK. She also performed her first shows in the US at SXSW, and has supported some of the biggest names in the industry including Tom Odell, The Coronas, Robbie Williams and Kodaline. Her current EP 'Things We Don't Talk About' is her second collection of songs, showcasing the depth and scope of her song writing. The title comes from the taboo and rarely spoken of issues that her songs naturally revolve around, and features 'Room to Breathe', released during lockdown and gaining 300k streams on Spotify in its first two months of release, and almost 600k to date.
SASHA SAMARA
Sasha is a new voice in the Northern Irish scene, bringing a fresh vision of folk-tinged pop that is honest and insightful. After launching her debut single 'Broken Vessel' in late 2019, her vulnerable approach to songwriting has endeared her to local audiences. With candid lyrics and girl-next-door connection, she has earned a slot at the coveted Ruby Sessions in Dublin, and a shortlisting at this year's NI Music Prize for the Oh Yeah Contender Award.
TOUR ALASKA
Tour Alaska is the solo project of A Plastic Rose frontman Gerry Norman. This solo expedition is a chance for the Sligo raised artist to show a more mellow side by swapping distorted guitars and screaming vocals for the stripped-back sound of acoustic guitar, piano and viola. Lyrically the songs are mostly true life stories of nostalgia, love, tragedy and a life in a struggling rock band during the more hectic years of your life battling mental health problems. Debut album 'The Guiding Moon' was released in Oct 2019 to wide acclaim and he's currently in the studio recording album No.2 due for release early 2021. His band A Plastic Rose have released two critically acclaimed albums, 'Camera.Shutter.Life' and 'Flickering Light Of An Inner War' through Third Bar, and are regarded as one of Northern Ireland's most celebrated alternative rock bands. Norman has toured all over the UK, Ireland and Europe multiple times including arena tours supporting Snow Patrol, Biffy Clyro and Twenty One Pilots.