Derry Girls series 3 postponed again
The third series of 'Derry Girls' has been delayed after Northern Ireland went into lockdown.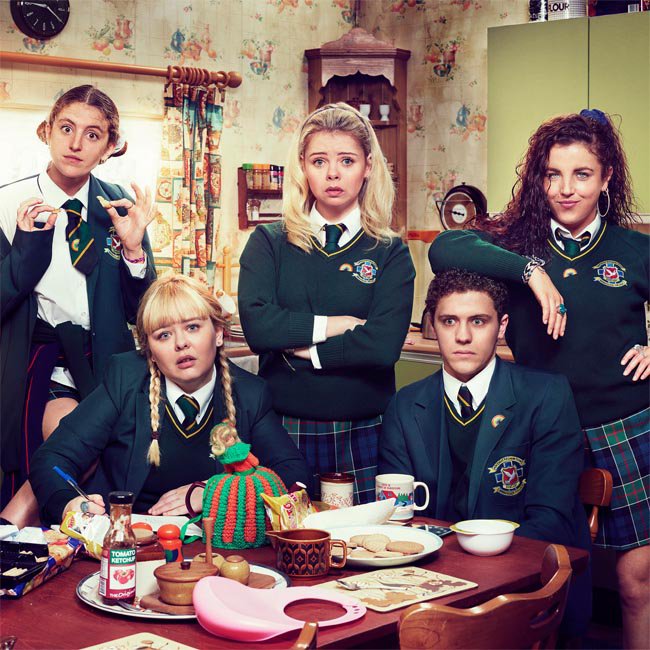 Derry Girls cast
'Derry Girls' series three has been delayed after Northern Ireland went into lockdown again.

The Channel 4 programme was already postponed in June due to the coronavirus pandemic, and now that the country is facing a four-week circuit breaker lockdown, that means that filming for the next instalment of the popular coming-of-age show cannot go ahead.

Saoirse-Monica Jackson, who plays Erin, insisted they won't film the show anywhere else but in Ireland.

She told Metro.co.uk: "We've been pushed [filming] now a couple of times, and I think we are going to push again.

"It's really important to us that we keep the authenticity of the show and that we don't deliver any show that's in any way a limited version. It's important for us to shoot it at home [in Ireland]."

The site claims that filming won't go ahead until next year.

Saoirse-Monica added: "The north of Ireland, honestly, the numbers there are quite high at the moment.

"So until those numbers go down and they tell us it's a safe environment for everybody to work on, we won't be back on set filming together, which is quite sad."

The cast last got together for the second series two years ago, and they have remained close during their time apart.

Nicola Coughlan, who plays Claire in the hit comedy, said recently: "We made the second series back in 2018, so it's been a long time since we've been together filming.

"There's tentative dates when we hope to go back but we don't really know at the minute."

Meanwhile, Nicola admitted she wouldn't want anyone to reboot the show with a new cast at a later date.

She added: "I think no matter what other jobs I get to do, there's never gonna be anything like that. That's just gonna be a special thing.

"And I don't ever want there to be another 'Derry Girls'. I want to go and do lots of different things, but I think it will always hold such a special place for me because it was the type of show I always wanted to be in."