Emotional Michael B. Jordan receives star on Hollywood Walk of Fame
Michael B. Jordan received his star on the Hollywood Walk of Fame on March 1.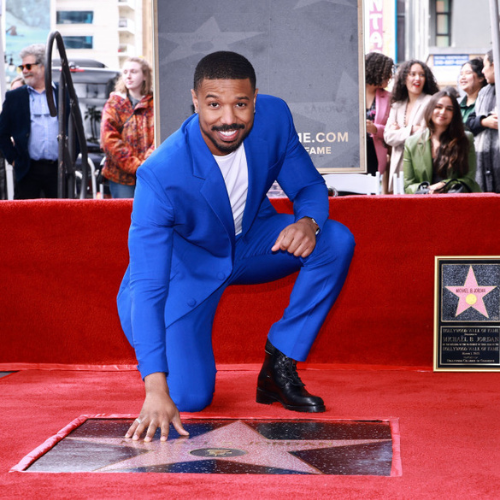 Michael B. Jordan
Michael B. Jordan was hit by "the importance" and "the weight of the moment" as he received his star on the Hollywood Walk of Fame.

The 36-year-old actor - who is best known for his role as Oscar Grant in the drama 'Fruitvale Station', boxer Adonis Creed in 'Creed', and Erik Killmonger in 'Black Panther' - received the highest honour in Hollywood on Wednesday (01.03.23), just two days before his latest movie, 'Creed III', hits theatres.

Jordan - who not only stars in the latest instalment in the 'Rocky' spin-off series but also stepped behind the camera to helm the flick - told 'Entertainment Tonight': "My emotions are actually all over the place, I'm seeing so many people that I want to kind of get to and hug and connect with and show my appreciation.

"I want to give the love right back, you know? But then I'm also just taking a moment to just to be like, 'Damn. OK, wow, that happened. I'm here!'"

He added: "I didn't think it would hit me this much, but as it all started to come together and we start to see it and reality starts to set in, the importance [and] the weight of the moment... you really realise it."

Ryan Coogler and Jonathan Majors gave speeches at the ceremony on Hollywood Boulevard.

The former first worked with Jordan on 2013's 'Fruitvale Station', and said he knew before he'd even met him that he was the perfect match for the role of the shooting victim.

He said: "I had just seen him work in film and television around that time but I didn't know what type of person he was. I wanted to make sure we had good chemistry [and] we would be able to work together, to relate over the few months of shooting."


He continued: "We met at a Starbucks not too far from Universal Studios ... We sat down right there in the lobby and we talked about our families, about our hopes, our dreams, why he got into the business ... and I remember thinking, 'Man, I hope this dude wants to do this movie because it feels like he's going places, man.'

"I realided that he hadn't been a lead on a television show or in a movie yet and I said, 'Man, we got to change that.' But I had no idea how much we would have a chance to change that."

Coogler gushed that he felt like "the luckiest director on the planet" getting to watch Jordan and the late Chadwick Boseman - who died aged 43 after a secret battle with colon cancer in 2020 - and said the Black Panther actor was "smiling on us right now".

The filmmaker added: "And then it came time for 'Black Panther' [and we] got to work with our incredible brother, Chadwick [Boseman], who I feel is smiling on us right now.

"Getting to watch them battle every day, I knew I was looking at something special. I felt like I was looking at, like, Denzel [Washington] and Will [Smith] or Wesley [Snipes] in their prime and in the same movie in a way that we never got to see them. I felt like the luckiest director on the planet every day on that set."

Later, Jordan's 'Creed III' co-star, Jonathan, compared him to Hercules and added: "You sit among Olympians. I honour you, I love you and we are all so proud to call you our son, our brother, but chiefly, I am extremely honoured to call you my friend. No man on the planet I know deserves it more. I love you to the moon and back."