'He's trying to get her back!' Tristan Thompson wants to rekindle romance with Khloe Kardashian
Tristan Thompson is "always trying" to get Khloe Kardashian back, more than a year on from when she discovered he had fathered a child with another woman.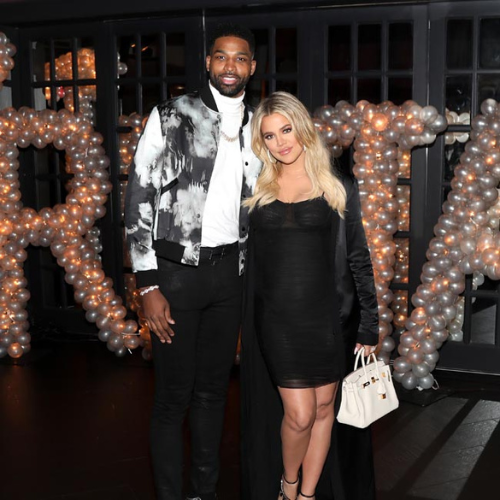 Tristan Thompson & Khloe Kardashian
Tristan Thompson is "always trying" to get Khloe Kardashian back.

The 32-year-old NBA player has daughter True, four, and a seven-month-old son born via surrogacy with 'The Kardashians' star, 38, but even though she split from him after it was revealed he had fathered a child with Maralee Nicholls during their relationship, an insider has claimed that he now wants to win back her affections.

A source told UsWeekly: "Tristan is always trying to get Khloé back, he still loves her and wants to make it work between them. They're friends and great co-parents, but he wants more."

Earlier this week, Tristan celebrated his 32nd birthday and Khloe took to social media on Monday (13.03.23) to send him her best wishes.

She wrote on Instagram: "Your love, attention, silly dances, hugs, carpool rides, bed time rituals, the way u show up for them. All of the above means more than you'll ever know to your family of littles. My birthday wish for u is that u continue to crave change, healing, and transformation. Be strong, be kind, be patient, be free." (sic)

Tristan's mother Andrea passed away in January after suffering a heart attack at the age of 49 and 'The Kardashians' star concluded her post by telling her ex-boyfriend to continue to make his mom proud as she wished him a happy birthday.

She added: "Continue to Make your soul and your mommy proud. Happy birthday baby daddy."

What's more, was reported that Good American founder had been spending time with Tristan as he continued to grieve for his mother after initially showing her support by attending the funeral.

A source said: "Khloe and the family have been sending flowers, keeping them engaged, and making sure they know they are loved and supported. Khloe has been very cognizant of making sure Tristan and his brothers don't feel alone and she has been doing her best to help them as they deal with this tragic loss. She has acted as an amazing support system. Tristan wants to show the world, Khloe, and his mom -- his guardian angel -- the man and father that he can be, even more so now. Both Khloe and Tristan are extremely hands-on parents and True is absolutely loving being an older sister to her baby brother. They are happy!"