I'm taking acting lessons, says Kim Kardashian
Kim Kardashian is taking acting lessons ahead of her debut in 'American Horror Story'.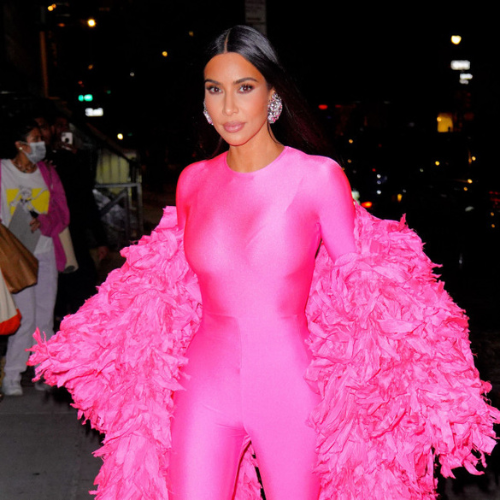 Kim Kardashian
Kim Kardashian has started taking acting lessons.

The 42-year-old star has revealed that she's been busily preparing for her upcoming role in 'American Horror Story'.

Asked if she was taking acting lessons, Kim told Variety: "I am, of course. It's a challenge. I like to challenge myself."

Kim is due to begin shooting her scenes later this month.

The brunette beauty - who has North, nine, Saint, seven, Chicago, five, and Psalm, three, with rap star Kanye West - shared: "We start shooting my stuff at the end of this month. But production has already started and I'm so excited."

Kim has enjoyed success in a number of different spheres over the years, and the reality star is now keen to test her acting skills.

She said: "It's really fun to step outside of your comfort zone and try something new and grow. I'm so excited for the experience."

Meanwhile, Kim previously claimed that she doesn't care what people think of her.

The reality star hit back at her critics, arguing that her talent lies in "marketing and the business behind selling products".

Asked about her talents and the keys to her success, Kim explained to Interview Magazine: "I'm like, 'Well, we have a TV show.' But just because we're not singing and dancing and acting on the show doesn't mean that the fame didn't come from that.

"But then, I would write that as a hashtag, not bad for a girl with no talent, because people used to be like, 'Well, what do you do? What's your talent?' And I'm like, 'Didn't know I needed one.'

"I mean, I can give you a million f****** talents. I can cook well, use my toes for anything. I could tell you the weirdest f****** s*** on the planet. But I think my talent is marketing and the business behind selling products and knowing what the customer wants and making it feel attainable, but also a bit unattainable at the same time.

"I wouldn't say that's a talent. I think it's a bit of magic and business savvy. Maybe it is talent, I don't know."