Kate Hudson's four-year-old daughter is 'much better' with make-up than she is
Kate Hudson has admitted her beauty--"obsessed" four-year-old daughter is already "much better" with make-up than she is.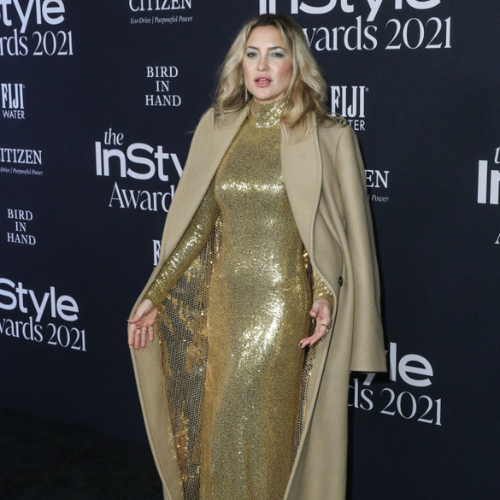 Kate Hudson
Kate Hudson's four-year-old daughter is "better" with make-up than she is.

The 'Glass Onion: A Knives Out Mystery' actress opts for a "70s sun-kissed" glow when it comes to her favourite beauty look and she admitted one of the best products she's found to achieve her ideal came from a shopping spree with her cosmetics-"obsessed" youngest child Rani, who she has with fiance Danny Fujikawa.

She told MindBodyGreen.com: "A more '70s sun-kissed thing—that's my go-to. I don't know if people see me that way, but that's what I like. Give me a good bronzer, some lip gloss, and a little mascara, and I'm happy...

"There's a really beautiful brand-new [product] that is my new favourite thing. I just got it with my daughter because she's obsessed with make-up—she's four years old and already better at it than me. It's called Youthforia But Tonight.

"I could put this thing on with no make-up on my cheeks - I'm doing it right now - and feel like a different person. It's one of my favourite new products. I put it on, and even Danny was like, 'Babe, what happened?' It's such a good product. That's my new favourite."

The 43-year-old star - who also has Ryder, 19, with ex-husband Chris Robinson and Bingham, 11, with former fiance Matt Bellamy - also "loves lasers" and finds the treatments help with any issues she experiences with her skin.

She said: "I love lasers—and they're not cheap. I think that one of the greatest noninvasive things you can do for your skin and for collagen production is all of the different lasers they have out there.

"I'm one of those people that still gets pimples. I'm just waiting for that time in my life where I don't get them anymore. Everyone's like, 'When you get older, they go away.' Nope, not for some of us! But they help with that; they help with collagen production, tightening.

"[They're] the best maintenance for skin and a great splurge...

"[For lasers] I go to Nurse Jamie. She's been a friend of mine forever. She's got every laser, she's got cryo, she's got stretching machines, she's got an infrared mat. I just go there and do everything."