Kim Kardashian's Met Gala gown made up of over 66,000 pearls
Kim Kardashian's extravagant Met Gala gown was made up of more than 66,000 pearls.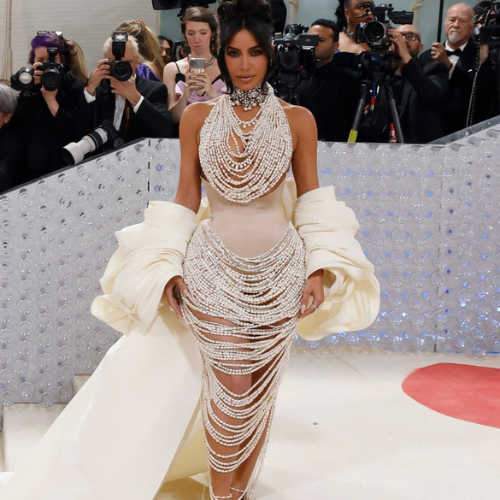 Kim Kardashian
Kim Kardashian's Met Gala gown was made from more than 66,000 pearls.

The 42-year-old star made her 10th appearance at the Met Gala on Monday (01.05.23) night as she stepped out in an extravagant custom Schiaparelli haute couture dress by Daniel Roseberry.

As reported by Vogue, the skirt and top - which took 12 artisans a staggering 1,000 hours to make - were made from over 50,000 freshwater pearls and 16,000 crystal pearls.

Reflecting on her way of paying tribute to late fashion icon Karl Lagerfeld in line with this year's theme, she told the publication: "I wanted pearls.

"I thought, 'What is more Karl?' You know, the iconic Chanel pearls is what I always thought of. So we wanted to just be dripping in pearls."

However, she had a bit of a mishap on her way to the glitzy event in New York City as her daughter North, nine, had to pick up some rogue pearls.


She added: "Some popped on the way, and I told my daughter to grab them all. They're real pearls and she was putting them all in her purse."

Although North didn't join her famous mum on the red carpet, she did ride with her in the car.

Kim had teased her Met Gala style earlier this week when she hung out with Lagerfeld's cat Choupette, which she admitted was "a little scary".

She said: "It takes a little while to warm up to her. She wrote me a sweet note and left it in my room. We spent some time together before this."

Meanwhile, the reality star insisted there wasn't any "pressure" for her to outdo last year's Gala outfit when she wore Marilyn Monroe's legendary 'Happy Birthday, Mr. President' dress.

She explained: "This year, I just wanted to feel glamorous. I really didn't feel the pressure. I just wanted to have a good time."