King Charles hails late Queen for 'pivotal' role in bonding Britain and Germany
King Charles used his historic address at the Bundestag to praise the late Queen for her "pivotal" role in bringing together Britain and Germany, as he became the first UK monarch to address the German parliament in a live speech.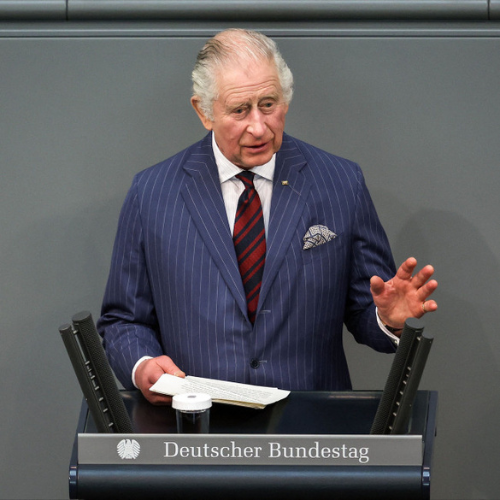 King Charles
King Charles has hailed the late Queen in a historic speech for her "pivotal" role in bringing together Britain and Germany.

The 74-year-old royal became the first UK monarch to address the Bundestag in a live speech on Thursday (30.03.23), in which he also referenced the Beatles and joked about football rivalries including England's Lionesses' Euro 2022 win against Germany.

Switching between English and German, Charles told the German parliament Britain's bond with the country meant "so much to my beloved mother, the late queen", adding she "often spoke of the 15 official visits she made to Germany" following World War Two.

He said: "Hers was the wartime generation, and like my father, The Queen had served in uniform.

"That my parents' 11-day tour of Germany should prove to be a pivotal moment in the reconciliation between our nations was, therefore, a matter of great personal significance to them both."

Charles noted the queen – who died aged 96 in September – paid her first state visit to Germany in 1967 "when our continent was still deeply scarred by war and the trauma of conflict.

He continued: "My mother understood the immense achievement that reconciliation represented, and in returning to Germany time and again, she was determined to play her own part.

"It is, perhaps, for this reason that Her late Majesty won a particular place in the affection of the German people.

"Germany is the only nation in the world with which the UK is such a joint unit."

Referencing The Beatles and German band Kraftwerk, Charles got an ovation as he spoke of the ability of the two countries to laugh "with and at each other", and told of their shared passions for sport, literature and music.

And giving a nod to his upcoming coronation on May 6, he added: "In just a few weeks' time, the astonishing music of Georg Friedrich Handel – who was born a German, and died British – will once again soar through Westminster Abbey at the Coronation, just as it has at every Coronation since that of my seven times great grandfather, King George II, in 1727."

The king also praised Germany for supporting Ukraine in the wake of Russian president Vladimir Putin's invasion, saying the bloodshed "threatens" Europe's security.

But he added he was "encouraged" by the unity shown for Ukraine by Britain, Germany and other nations.

Before his speech, which came on the second day of his state visit to Germany with the Queen Consort, 75, the king was given German cheese and his wife Camilla ate dairy delicacies and honey in Berlin's Wittenbergplaztz Food Market.