Lewis Capaldi to play special warm-up show for Reading and Leeds ticket holders
Lewis Capaldi is to play a warm-up show in Leeds ahead of his his Reading and Leeds Festival headline slot.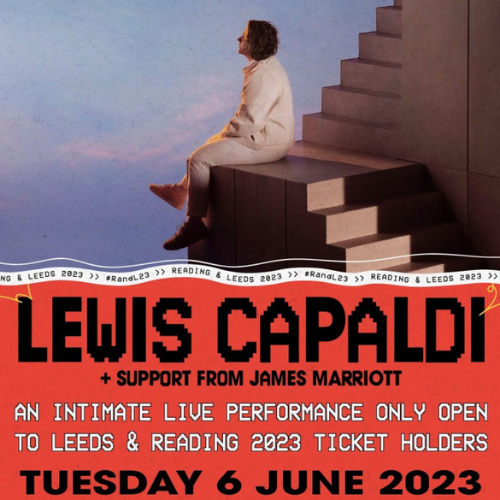 Lewis Capaldi
Lewis Capaldi is playing a warm-up show ahead of his Reading and Leeds headline slot.

The 'Someone You Loved' hitmaker will take to the stage at intimate Leeds venue The Wardrobe on June 6, 2023 and he will be supported by James Marriott.

Tickets will be available via ballot to those who have already purchased a Reading and Leeds festival ticket (day or weekend), with all profits from ticket sales going to charity.

Capaldi, 26, is one of the marquee names for the 2023 festival, which takes place between 25 and 27 August, along with Billie Eilish, Sam Fender, The Killers and Imagine Dragons and Foals with tickets still on sale via www.readingfestival.com/tickets and www.leedsfestival.com/tickets.
The 'Forget Me' singer has just released his second album 'Broken by Desire to Be Heavenly Sent' and has recently been honest about his mental health struggles and his diagnosis with Tourette's syndrome and how those issues have influenced the new songs on his LP.

He told Apple Music's Rebecca Judd: "I think on this album in particular, I talk a bit more about my mental health, which has taken a beating over the last little while.

"I'm managing it better now but I think in 2020 I was kind of glad when we got put in lockdown because I had done my first arena tour in the UK, and we had just done an Australia and Asia tour before that, and I was in a bad way where I was just having panic attacks every single day on stage and I was just shy.

"I still haven't quite got there, but it's interesting that this thing that you love to do and you've always wanted to do becomes something that causes you such distress, but such is the modern world.

"I'll take a few panic attacks and my Tourette's and stuff for what's happening, but if it gets to the point where things get worse mentally and I stop kind of looking after myself in that regard, I think that would be a point where I'd be like, 'I'm just not going to do this anymore.'

"The main reason I got into music was to play live and if I'm struggling to do that ever, I think that's where I'm in trouble, because otherwise that's the payoff, that's the point of doing it."

Fans can be the first to hear further line-up announcements, artist news and much more by signing up to the newsletters at www.readingfestival.com and www.leedsfestival.com.