Lily Collins: 'I take fashion risks because of Emily in Paris'
Lily Collins says the eccentric looks she sports while starring in 'Emily in Paris' have pushed her out of her comfort zone when it comes to her fashion choices.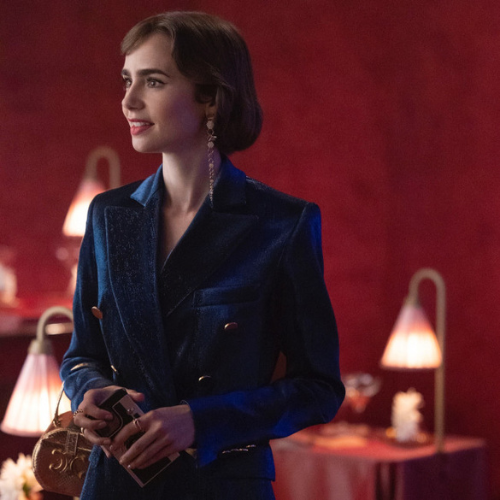 Lily Collins
Lily Collins says her 'Emily in Paris' character has pushed her to take "new risks" with her fashion choices.

The 33-year-old model and actress has been sporting eccentric looks in the Netflix show since 2020 when she took the role of out of her depth marketing executive Emily Cooper, who crosses the pond from America to France, and says the role has now rubbed off on her when it comes to her wardrobe.

Lily, who is also an ambassador for Cartier's Panthère leather-goods collection, told the new issue of Harper's Bazaar magazine: "I take new risks because of Emily, whether that's with colour palette, texture, print or shape – she helps me branch out and try new things."

The actress added one of the highlights of filming the latest season of 'Emily in Paris' was wearing the Dolce and Gabbana outfit her character chose for the fictional fashion designer Pierre Cadault's retrospective, which consisted of a zebra-print top with huge wing-like shoulders and black micro-shorts.

But for years Lily was not as comfortable with her appearance, as she suffered spells of anorexia and bulimia from her teens into her twenties.

She was never hospitalised with the conditions, but has admitted it has taken her years to recover.


Lily revealed her struggles with eating disorders in a 2017 collection of personal essays called 'Unfiltered'.

She told Harper's Bazaar about how writing them, and playing a young anorexia patient in the 2017 film 'To the Bone': "I needed to let go of some baggage so that I could better take on the baggage of characters I was playing.

"I'd been writing my chapter on the subject (in 'Unfiltered') when I got the script (for 'To the Bone'), and I was finalising the book as I finished shooting, so it was a weird experience where one informed the other... I was able to heal new ways and just feel freer."

She also told the magazine she would "love" to have a family with her film director husband Charlie McDowell, 39, even though she knows it will be a "juggle".

Lily added: "Of course, I'd love to have a family. So there's the personal, the work, there's the blending of the two... it's always a juggle, but I want it to be – I want to be able to do all the things I enjoy.

"The key thing is finding out what makes sense for us."