Lily James has nothing but praise for 'incredible' Christopher Bailey
Christopher Bailey is a "really incredible" guy, according to Lily James who was selected to represent the My Burberry Black fragrance line and star in the brand's short film about company founder Thomas Burberry this year.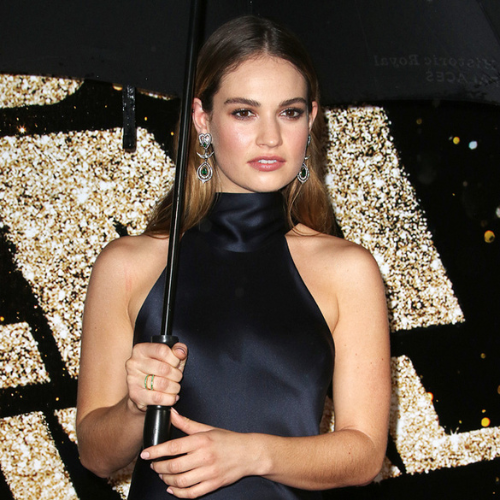 Lily James
Christopher Bailey is a "really incredible" guy, according to .
The 27-year-old actress – who was announced as the face of the British designer brands My Burberry Black fragrance campaign earlier this year – believes the brand's chief creative and chief executive officer is a great person because he "supports and nurtures British talent".
Speaking exclusively to BANG Showbiz, the golden-haired beauty – who follows in the footsteps of Rosie Huntington-Whiteley and Romeo Beckham to front the brand's Christmas commercial – said: "Christopher Bailey is just a really incredible guy, he really supports and nurtures British talent in all different aspects, whether it be music or models or film directors or actors."
And the 'Downton Abbey' star has revealed she feels "really lucky" the 45-year-old creative mastermind has decided to "embrace" her and cast her in their campaigns.
She said: "So I feel really lucky that he has decided to embrace me and my career in a way. And I feel really lucky."
And Lily has teased she will continue to work with the longstanding fashion house in the future, although she has not revealed any details of upcoming ventures.
When asked about future projects with Burberry, Lily – who was cast as Betty Dawson in the brand's festive short film 'The Tale of Thomas Burberry' – said: "I think there's exciting things to happen in the next couple of years. Well to be honest we are just focusing on this wonderful festival campaign right now."
Meanwhile, Lily has revealed she has "always" found boys wearing Burberry check shirt "rather attractive" when she was younger.
Speaking previously, Lily – who is currently dating former 'Doctor Who' actor Matt Smith – explained: "When I was younger I remember seeing the boys wearing those Burberry shirts. They're sort of a bit retro now but it was full check – the entire shirt. I'd always find [the boys wearing] them rather attractive. I think they're trying to bring that sort of thing back which I think is very exciting. I think bold is brilliant."