McFly release party rock anthem, God Of Rock and Roll, announce UK tour
McFly will be playing a series of intimate gigs with double dates in many cities.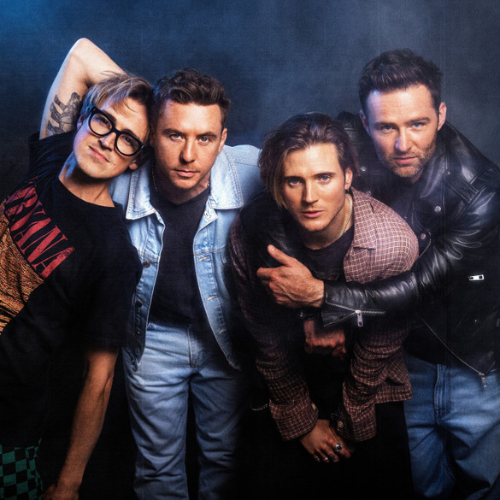 Tom Fletcher, Danny Jones, Dougie Poynter and Harry Judd
McFly have released the new "party rock" anthem, 'God Of Rock and Roll', and announced a UK tour.

It marks the second single from the pop rock group's upcoming album, 'Power To Play' - which will be released on June 11 - and follows the equally guitar-driven lead single, 'Where Did All The Guitars Go?'

Of the new song and album, the 'Obviously' band said: "Once we had landed on the fact that we were going to do 80s rock, there was just something in it that had such a McFlyness within it. High concept, guitars front and centre, colourful. It's all the things we have always loved about music and what we do with this band. It's a party rock song at its core, but its seed was that if there was a god of rock and roll, we would undoubtedly be worshipping him. A lot of that came from going to shows ourselves. We all went to see Green Day, Fall Out Boy and Weezer last year and seeing so many people had come to the same place to enjoy rock music was incredible. Rock music celebrates life and having fun, and it feels like we all got deprived of that for such a long time."
We've got some news… Our brand new album Power to Play will be out on 9th June 2023 ⚡️ The first single Where Did All The Guitars Go? drops THIS FRIDAY!

Pre-order the album and check out limited edition music & merch bundles on our official store 👇

🔗 https://t.co/L6Ls1NgKT3 pic.twitter.com/w8J1R1syYh

— mcfly (@mcflymusic) March 29, 2023


The songs on the LP have been inspired by 'Stranger Things'.

The 'All About You' hitmakers have gone for a heavier sound, and not only are they "mega stoked" to be bringing back guitar-driven songs, but bassist Dougie Poynter also revealed a particular scene in the Netflix sci-fi series last year, which saw Eddie Munson perform Metallica's 'Master Of Puppets', was a driving force.

He recently told The Sun newspaper's Bizarre column: "It was really sad when the guitar music disappeared for a little while so we're mega stoked (to be bringing it back).

"I almost f****** cried when I was watching 'Stranger Things' and Eddie defeated the bad guys by playing a Metallica song.

"I was like, 'this is absolutely huge'.

"I thought that was one of the coolest things.

"That was f***ing rad.

"We'd finished the album by the time I saw 'Stranger Things' but then I saw that scene with Eddie and that was the beginning of the song 'God of Rock + Roll'.

"The biggest inspiration behind that song was Eddie from 'Stranger Things'."

As for the tour, the group - also comprising Tom Fletcher, Danny Jones and Harry Judd - are playing a number of intimate underplay shows, as well as rocking London's Alexandra Palace for the very first time on October 27.

Tickets for the UK tour go on general sale from May 5.

Fans who pre-order the album from the bands official store (store.mcfly.com), where they will get an exclusive pre-sale code for the tour.

'Power To Play' track-list:


1. 'Where Did All The Guitars Go?'

2. 'Land Of The Bees'

3. 'Forever's Not Enough'

4. 'God of Rock and Roll'

5. 'I'm Fine'

6. 'Taking Back Tonight'

7. 'Honey I'm Home'

8. 'Route 55'

9. 'Crash'

10. 'Make It Out Alive'

11. 'Shine On'



Tour Dates:



October

23, Bristol, Academy

24, Bristol, Academy

25, Norwich, Norwich UEA

27, London, Alexandra Palace

28, Bournemouth, BIC

29, Southampton, Guildhall

31, Birmingham, Academy

November

01, Birmingham, Academy

04, Edinburgh, Usher Hall

05, Newcastle, City Hall

06, Newcastle, City Hall

08, Glasgow, Barrowlands

13, Leeds, Academy

16, Manchester, Victoria Warehouse

19, Manchester Victoria Warehouse

21, Nottingham, Rock City

22, Nottingham Rock City