Amazon founder Jeff Bezos 'engaged' to Lauren Sanchez
Jeff Bezos and Lauren Sanchez are said to have taken their relationship to the next level.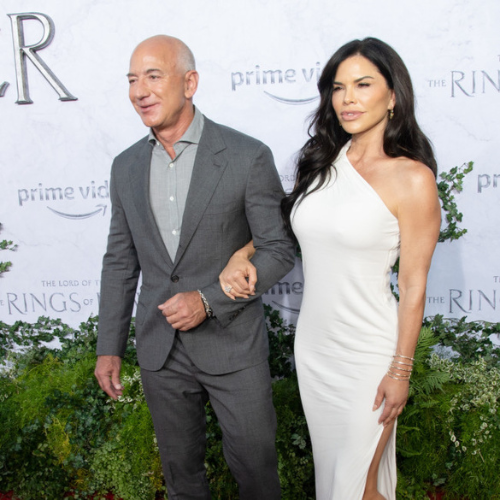 Jeff Bezos and Lauren Sanchez
Amazon founder Jeff Bezos has reportedly got engaged to his partner Lauren Sanchez.

The 59-year-old billionaire is said to have proposed to the 53-year-old former broadcaster on his $500 million superyacht, Koru, off the coast of Cannes on Monday (22.05.23).

The loved-up pair had been sailing around the Mediterranean on the luxury vessel - which now features a sculpture on the bow that looks like his partner - and Lauren was seen with a dazzling diamond ring on her wedding ring finger as they docked in Cannes and packed on the PDA.

A source told the New York Post's Page Six column: "They were all over each other. I mean, they're always affectionate, but they could not keep their hands off each other."

Another said: "They were telling everyone they were engaged, they were so excited, they are completely in love."

A source speculated about their wedding: "I can't imagine it will be quiet — I think it will be a Who's Who of people."

Jeff and Lauren have been dating since 2019, but first met in 2016, while she was still married to Patrick Whitesell, who introduced the pair, and the business magnate was with the mother of his four children, MacKenzie Scott Tuttle.

Lauren recently gave an insight into their romance and gushed that he has a "goofy" sense of humour.

The former reporter admitted it is always easy to find her partner if they get separated at parties because of his distinctive laugh and she's always found him "really funny".

She told the Wall Street Journal: "He's really funny. He makes me laugh all the time. He can be goofy.

"When I first heard his laugh, I was like, 'Whoa! What is that?' Now I love it. And if I'm at a party and we get separated, all I have to do is wait a second and he laughs and it's like, he's over there."

But it isn't often the couple do get separated because Lauren admitted she and the businessman are "together all the time".

She said: "We love to be together and we love to work together. We fly together. We work out together. We're together all the time."

Last November, the couple revealed Jeff plans to donate a significant portion of his $124 billion fortune to various charitable initiatives and Lauren is proud of his efforts.

She said: "Jeff has always told me, since I've known him, that he's going to give the majority of his money to philanthropy."
The couple plan to donate to climate, social, and political initiatives but Lauren insisted those benefitting from their "strategic giving" will be carefully vetted.

She explained: "You want to give money away and you want to know that it's helping people and it's going to continue to help people, and that it's going to the right places.

"You could give it not-strategically. You can just give it away! But, we take it seriously.

"We believe in investing in individuals who are closest to the ground, working hands-on with the people whose lives we all hope to positively touch and transform."