King Charles and Queen Camilla record rail announcements
Rail-users across the UK will be treated to the sound of announcements from King Charles and Camilla, Queen Consort over the coronation weekend after the royals recorded special messages to be broadcast in train stations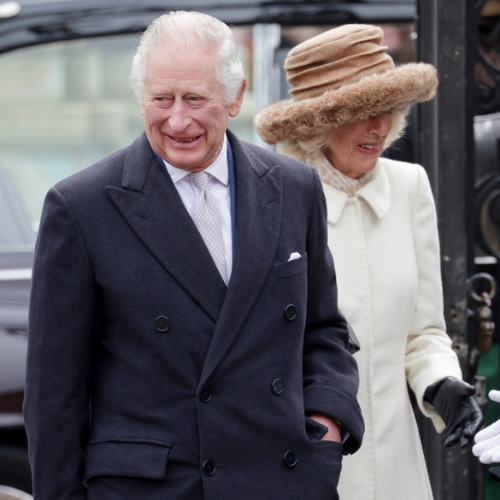 King Charles and Camilla, Queen Consort
King Charles and Camilla, Queen Consort have recorded special messages to be broadcast in train stations across the UK over the coronation weekend.

The new monarch and his wife will be crowned at a ceremony in Westminster Abbey on Saturday (06.05.23) and they have celebrated by recording announcements which will be played at railway stations all over Britain and in London Underground stations from Friday (05.05.23) until Monday (08.05.23).

In the announcement, Charles says: "My wife and I wish you and your families a wonderful coronation weekend," and Camilla then adds: "Wherever you are travelling, we hope you have a safe and pleasant journey."

The message then concludes with Charles reciting the most well-known phrase in Tube station announcements, adding: "And remember, please mind the gap."

The announcements were recorded at the King's Highgrove estate earlier this year.

Network Rail chief executive Andrew Haines said: "Our station colleagues are pulling out all the stops to welcome people to London for the Coronation and it's fantastic that they will also be welcomed by King Charles III and Queen Camilla."

Andy Lord, London's Transport Commissioner, added: "With less than one day to go before the Coronation, we look forward to hosting Londoners and visitors from across the globe.

"We are honoured to support the celebrations with a special station announcement across our network from Their Majesties King Charles III and Queen Camilla."

It comes after the Prince and Princess of Wales travelled by tube to a London pub on Thursday (04.05.23).

Prince William and his wife Catherine boarded the London Underground at Acton Main Line in west London to take the a train on the newly-opened Elizabeth line - named after the late Queen Elizabeth.

During the outing, the royal couple chatted to Transport for London (TfL) workers about their plans for King Charles' coronation this weekend, before travelling three stops to Tottenham Court Road, where they got off to head to the Dog + Duck in Soho.

According to Britain's HELLO! magazine, Catherine was asked about the coronation and said: "Yes, it's going to be a busy time. We're getting there. I still feel like we're trying to get ducks in a row." William enjoyed a pint in the pub and admitted he loved chatting to people in bars. He told a group of local businessmen: "You always have the best conversations in pubs – you never know who you are going to meet."

The 40-year-old prince joked he would have to watch how much he drank and "get back into work mode". He echoed his comments when he left the pub, telling waiting crowds he had "just had a bit of cider" but would be putting his responsibilities first. According to People magazine, he said: "I will drink after the coronation but not now." The couple's eldest son, Prince George, nine, will be one of Charles' Pages of Honour at Westminster Abbey and the princess said the youngster was "excited" about the ceremony and had been taking part in rehearsals.