Miley Cyrus reveals new album is divided into two sides
Miley Cyrus has split her album into two sides called 'AM' and 'PM' to reflect the different energies.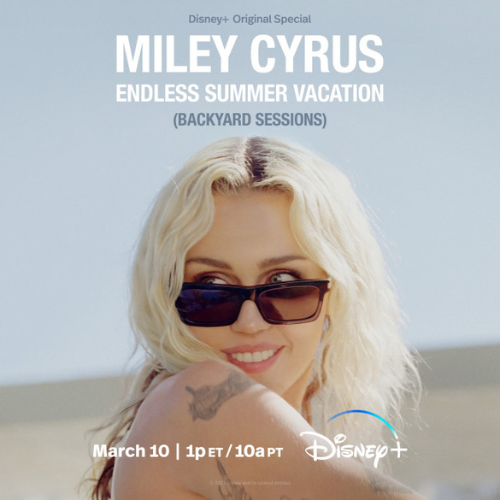 Miley Cyrus
Miley Cyrus' new album is divided into two sides.

The 'Flowers' hitmaker has explained that one half of the follow-up to 2020's 'Plastic Hearts' is full of "buzz and energy" and is called the AM and the PM side is the "wild side".

She said in a teaser clip from her Disney special 'Miley Cyrus ‒ Endless Summer Vacation (Backyard Sessions)': "The AM part is representing the morning time where there's a buzz, an energy, and new possibilities and PM part it's like slinky, glamour, it's a time to rest or go out and experience the wild side."

The special, which is set to premiere on Friday, 10 March, at 6pm GMT on Disney+, will see the pop star give songs from her eagerly-awaited LP, 'Endless Summer Vacation', their live debut, including the smash-hit lead single 'Flowers'.

The 30-year-old star will perform "seven additional tracks from the album, one of her chart-topping classic hits and a special performance with Rufus Wainwright."

The 'Midnight Sky' hitmaker launched the 'Backyard Sessions' series back in 2012.

Miley also served as executive producer of the Disney special.
ESV THE ALBUM FRIDAY MIDNIGHT, BYS FRIDAY 1PM ET @DisneyPlus pic.twitter.com/e2ucPAbFNe

— Miley Cyrus (@MileyCyrus) March 6, 2023


Meanwhile, SZA recently teased a collaboration with Miley.

The chart-topping pair congratulated each other after Miley's 'Flowers' became her first number one single on the Billboard Hot 100 chart and SZA's recent chart success with 'Kill Bill' from her LP 'SOS'.

SZA tweeted: "MAJOR congrats to Miley !!! Excited for her album and to work together."

And the 'Malibu' singer responded: "You are KILLING it. Congratulations! Sending love."

Mley said she is "endlessly thankful" to her fans for making 'Flowers' a record-breaking hit.

She tweeted: "Celebrating "Flowers" being #1 around the world again this week! I love that this record is connecting in such a positive way and it's a pleasure to continue creating music for you. These milestones are only made possible by the listeners and my incredible fans. Endlessly thankful. (sic)"

The song, which was released on December 31, garnered a record-breaking 101+ million streams on Spotify within the first week of release.

By January 19, Miley had beaten Adele's Spotify record with the hit being streamed 96,032,624 times, toppling the latter's 'Easy On Me' record.