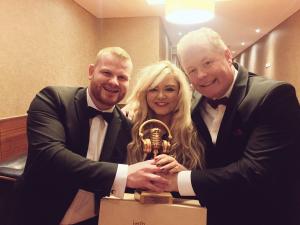 David Hunter, Hannah Spratt and Bob Huggins celebrate winning Gold!
By Robert Skates
Q Radio's award winning news has come out tops at the IMRO (Irish Music Rights Organisation) awards 2017.
The station lifted the Gold trophy for "Best News Bulletin" across Northern Ireland and the Republic.
The entry consisted of extensive coverage of the funerals of former Deputy First Minister, Martin McGuinness and Derry City Football Club's Captain, Ryan McBride.
LISTEN:
Speaking at a gala awards ceremony in Kilkenny on Friday night Q Radio Head of News & Sport Editor Bob Huggins said he was delighted that the hard work, dedication and professionalism of the team at Q Radio News had been rewarded.
"Our reporters did a wonderful job - their gutsy determination and enthusiasm in what was a very difficult day brought out the very best in them - both journalistically and ethically.
We are a locally owned radio station operating across Northern Ireland, delivering local news that matters to our growing number of listeners".
(Q Radio's Head of News & Sport, Bob Huggins)
Formerly the PPI Radio Awards - the winners were announced on Friday night at a gala ceremony held at the Lyrath Estate Hotel in Kilkenny.
In total more than 677 entries were received, these were then whittled down to a shortlist of 185 which was announced in early September.
90 Judges listened to over 295 hours of the best of radio from both sides of the border.
IMRO Radio Awards Committee Chair, Sean Murtagh said "Once again the radio community across the country can celebrate and be proud of their work, this evening we salute the incredible work of those behind the scenes as well as in front of the mic in stations.
"Over 600 people from the radio sector have come together this evening at the Lyrath Estate, all hoping to take home the industry's most sought after Award."
Speaking on behalf of the new sponsors of the Awards, Eleanor McEvoy, Chair of IMRO said "The IMRO Radio Awards celebrate and applaud the many radio professionals who day-in-day-out shine a light on the important local, national and international topics and issues that affect us all and who create that all too important musical soundtrack of our lives.
"Each of the nominees in their own way has made an indelible mark on the broadcasting sector and they rightfully deserve to be honoured by their peers on this special evening".