Slovakian viral model Veronika Rajek is on a manhunt for a sporty 'gentleman' to share her life with
Slovakian model Veronika Rajek - who has amassed 4.4 million followers on Instagram - is looking for a guy to spend her life with and has a list of requirements the potential suitor needs to fulfil.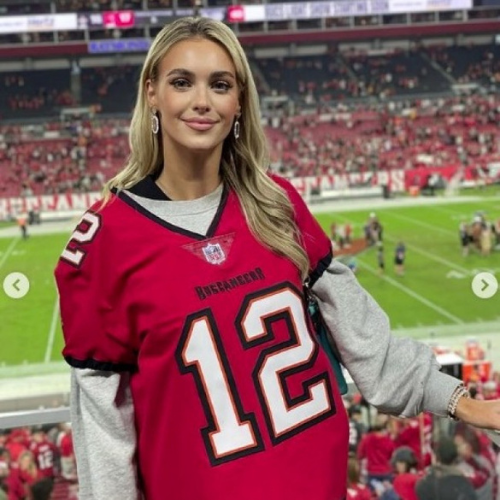 Veronika Rajek
Slovakian model Veronika Rajek has described her ideal man - insisting her Mr. Right must be "tall, funny, honest and above all, a gentleman".

The 26-year-old blonde beauty - who has amassed 4.4 million followers on Instagram thanks to her red hot bikini photos and has worked with labels such as Dolce and Gabbana, Vera Wang and Moschino - is looking for a guy to share her life with and that lucky individual will need to prove to her that he has manners and will treat her life a lady.

In an interview with Spanish sports newspaper, Veronika said: "He must be tall, and above all, a gentleman.

"I am looking for men to be honest and to be funny. You don't impress me with cars, I don't care if you have a BMW or a Mercedes… it just needs four wheels and that's it. I'm not bothered by expensive clothes either.

"For me, the most important thing is behaviour because I think in this era there are not many gentlemen: men don't hold the door for you, men don't help you sit down in a restaurant… these are the tiny details that make the difference."

Rajek - who is 5ft 11in - does need a tall man because she doesn't want to tower over her significant other when she is walking in high heels, and she would prefer it if the guy played sports.

She added: "Visually speaking, men need to be tall - ideally more than 190cm [6ft 2in] because I am very tall and if I wear high heels, I am even taller.

"It's not that I don't like shorter men, the issue is that they start to feel insecure around me and I don't want to make men insecure. I need a manly man. I prefer an athletic man, it's important that you do sports three or four times a week. If you don't have this similarity with me, then that's not good."

"I don't care about hair or eye colour. The most important is having that connection, that click with someone.

"Of course, ultimately women are looking for a man who will be a good partner and father. The age when I cared about looks is gone. Men must be stable and mentally stable."

Veronika went viral back in December when she attended an NFL game between her favourite team the Tampa Bay Buccaneers and the New Orleans Saints.

The curvaceous babe uploaded a post of herself at the Raymond James Stadium, in Tampa, to her Instagram account which showed her wearing quarterback Tom Brady's No. 12 Buccaneers jersey whilst declaring her love for the legendary 45-year-old football player, who recently divorced his supermodel wife Gisele Bundchen.

Her post read: "I saw the LEGEND and if somebody asks me again if I love Brady, yes I love him, and show me somebody who doesn't. Even his haters love him ... @tombrady thank you for an amazing show #GOATFOREVER (sic)"