Beyonce kicks off world tour in Sweden
Beyonce has performed the first night of her long-awaited world tour, treating fans to a staggering 36-song set.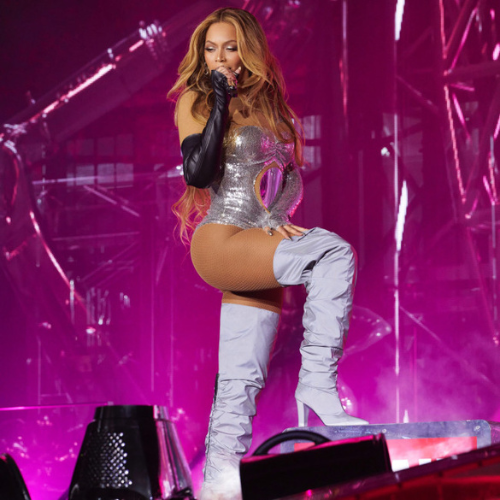 Beyonce
Beyonce flew from the stage on a disco horse as she closed her first 'Renaissance' concert on Wednesday (10.05.23) night.

The 41-year-old superstar kicked off her world tour at the Friends Arena in Stockholm, Sweden, and treated the 50,000 fans to a staggering 36-song set, which proved to be both an audio and visual spectacular.

As well as the horse - which was first seen on the album cover for 'Summer Renaissance' - Beyonce also made use of a pair of robotic arms, a mechanical structure that took the place of a bull as she sang her verse from Megan Thee Stallion's 'Savage Remix', a disco ball, and UV lights that helped transform her ordinary-looking dress into something more colourful, while the stage included a big screen with a dome-like cutout for her band and a circular extended ramp. Other props that were used throughout the night include a disco ball, a floating disco-horse and robotic arms with UV lights that transformed Beyoncé's dress from a plain to coloured outfit instantly.

With no opening act, Beyonce kicked off the show by treating fans to a selection of songs she doesn't often perform live, including 'Dangerously in Love' - which she hasn't sang on stage since 2009 - 'Flaws and All', and 'I Care', as well as a cover of Mary J. Blige's 'I'm Goin' Down'.

The futuristing 'Renaissance' section saw her perform the album in full and she also played a selection of her biggest hits throughout her career, including 'Drunk In Love', 'Formation', 'Love on Top' and 'Crazy In Love', as well as featuring mash-ups and interludes of tracks by a string of other artists, including Kendrick Lamar's 'Alright', Britney Spears' 'Toxic', Jackson 5's 'I Want You Back', and Nina Sky's 'Move Ya Body'.

Beyonce's 'Renaissance World Tour' setlist - night one:

Opening Act:

'Dangerously in Love 2'

'Flaws and All'

'1+1'

'I'm Goin' Down'

I Care'



RENAISSANCE:

'I'M THAT GIRL'

'COZY'

ALIEN SUPERSTAR'

'Lift Off'



MOTHERBOARD:

'CUFF IT'

'ENERGY'

'BREAK MY SOUL'



OPULENCE:

'Formation'

'Diva'

'Run the World

'MY POWER'

'BLACK PARADE'

'Savage (Remix)'

'Partition'



ANOINTED:

'CHURCH GIRL'

'Get Me Bodied'

'Before I Let Go'

'Rather Die Young'

'Love on Top'

'Crazy in Love'





ANOINTED PT. 2:

'PLASTIC OFF THE SOFA'

'VIRGO'S GROOVE'

'Naughty Girl'

'MOVE'

'HEATED'

'MEGAMIX'

'THIQUE'

'ALL UP IN YOUR MIND'

'Drunk in Love'



MIND CONTROL:

'AMERICA HAS A PROBLEM'

'PURE/HONEY'

'SUMMER RENAISSANCE'