Chris Stapleton shocked to hear Dolly Parton named him her 'favourite' duet partner on star-studded rock album
Chris Stapleton can't believe Dolly Parton chose him out of music legends including two Beatles and Sir Elton John.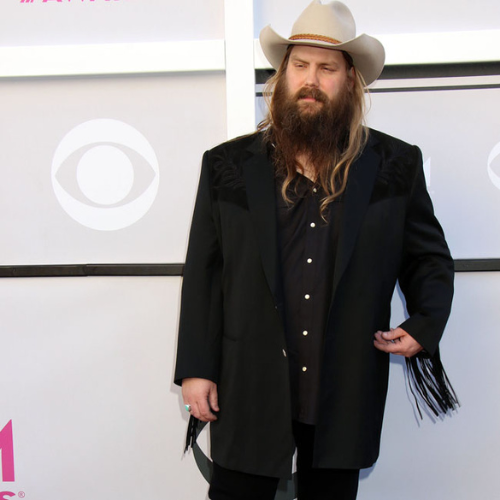 Chris Stapleton
Chris Stapleton was shocked that Dolly Parton named him her "favourite" duet partner on her upcoming rock album.

The country legend has collaborated with the biggest stars in rock on 'Rockstar', including Beatles Sir Paul McCartney and Sir Ringo Starr, Stevie Nicks, and Sir Elton John, to name a few, but she's said to have singled out the Grammy winner as her favourite.

On getting the call from Dolly to duet on a rendition of Bob Seger's 'Night Moves', he told 'Entertainment Tonight': "It's wild. She's so wonderful to talk to; she's so sweet all the time. She's one of those calls where it's like, 'Whatever you want me to do.'"

And reacting to her naming him her favourite artist to sing with on the upcoming LP, he responded: "Oh wow. I know some of the other folks on there and that is quite a compliment, I appreciate that."

The 77-year-old idol promised to make a rock record after she was inducted into the Rock and Roll Hall of Fame, and the star-studded LP is set for release on November 17.

She said in a statement: "I'm so excited to finally present my first Rock and Roll album 'Rockstar'.

"I am very honoured and privileged to have worked with some of the greatest iconic singers and musicians of all time and to be able to sing all the iconic songs throughout the album was a joy beyond measure.

"I hope everybody enjoys the album as much as I've enjoyed putting it together!"

Dolly's announcement came with a 30-song track-list, with Paul and Ringo joining her for a cover of The Beatles' classic 'Let It Be'.

Brandi Carlile and Pink appear on a rendition of The Rolling Stones' '(I Can't Get No) Satisfaction', while Emmylou Harris and Sheryl Crow will be her guests on a song most popularised by Linda Ronstadt, 'You're no Good'.

Other collaborators on the album include Judas Priest's Rob Halford, and Lizzo and her Sasha Flute.

Plus, Stevie Nicks, Chris Stapleton, Simon Le Bon, John Fogerty, Melissa Etheridge, Michael McDonald, Richie Sambora, Ronnie McDowell, the Jordanaires, and Kid Rock.

One contributor, Lynyrd Skynyrd guitarist Gary Rossington, has since died after recording the final track, 'Free Bird'.

The first single from the album, 'World on Fire', is out now and was debuted by Dolly at the ACM Awards in Texas on Thursday (11.05.23).

Nine of the 30 songs on 'Rockstar' are originals, and the other 21 are covers of familiar material.