Shania Twain wants ABBA's Bjorn Ulvaeus to help her make a musical
Shania Twain has hinted she is keen to make a musical based on her songs.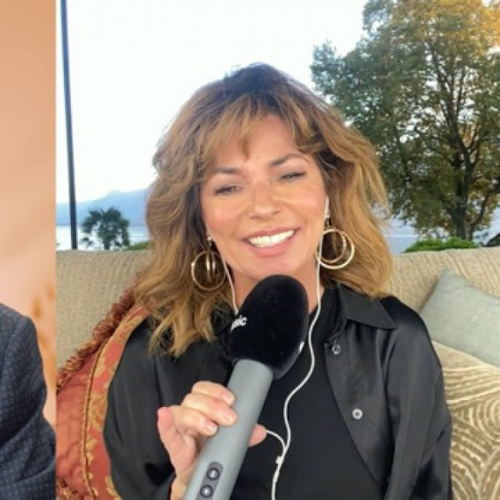 Shania Twain
Shania Twain wants ABBA's Bjorn Ulvaeus to help her if she ever does a musical based on her songs.

The 57-year-old Canadian superstar - whose hits include 'Man! I Feel Like A Woman!', 'You're Still The One' and 'That Don't Impress Me Much' - recently teamed up with Netflix on the documentary 'Shania Twain: Not Just a Girl' and she has revealed there is "interest" in her turning her music into a stage show.

Speaking to 'Dancing Queen' hitmaker Bjorn on 'Bjorn from ABBA and Friends' on Apple Music Hits, she said of a potential musical: "Yes, there actually is an interest in doing a musical."

She continued: "I just want to take a second to just say how much ABBA music has inspired me in the sense of broadening my whole... I grew up listening to three-chord songs, very simple, a lot of storytelling. But musically, when I heard ABBA, I'm like, 'This is another planet of arrangements.' And the time signature changes just went to so many unexpected places."

When the 77-year-old music legend suggested Shania should give the musical thing a go, she replied: "Yes. Well, listen, I'll probably need some help. You have all this experience now, I may have to call you back on that."

ABBA not only have a hit Broadway and West End musical in 'Mamma Mia!', but they also have two blockbuster musical movies, a digital avatar show in 'ABBA Voyage', and an immersive experience that sees fans transported to Greece and dine on Greek food while the cast of 'Mamma Mia! The Party' entertain them.
There's a new episode! This time @ShaniaTwain joins Björn on his @AppleMusic radio show to discuss the writing of their biggest hits and how ABBA has influenced her music.

Listen now: https://t.co/UHzyIz7bWr pic.twitter.com/JVeS6Q36HV

— ABBA (@ABBA) March 1, 2023


Meanwhile, Shania recently admitted performing at Coachella with Harry Styles was "one of the highlights" of her career.

The singer was a surprise guest when the former One Direction hunk headlined the California festival last April, joining him on stage to perform her own tracks 'Man! I Feel Like a Woman!' and 'You're Still the One', and she found it to be a very special evening.

Shania told how she first met the 'As It Was' singer backstage at one of his concerts and she quickly became friends with the "sweet" star.

She told Today.com: "He was just really on his way up when I first met him."

Shania admitted she finds it "very rewarding" to have fans of Harry's generation.

She said: "He's one of these kids that's part of the generation that 25, 30 years ago were four, five, six, years old in the audience.

"Now it's this full-circle moment where they are old enough now to speak for themselves and they can come and see me without the parents and express their admiration for my music and to thank me for the inspiration.

"It's very rewarding for me to still be doing this and to hear their gratitude in person."

The 'From This Moment On' singer - who released her album 'Queen of Me' last month - recently teased she is planning to work with Harry again in the future.

Asked about the possibility, she said: "Well, not on this album, but in the future, I would say, 'Yes'. I'm going to hold Harry to that."