Prince and Princess of Wales pledge long-term support to therapy gardens
The Prince and Princess of Wales promised to return to the rehab centre in South Wales to see how the horticultural therapy and mental health counselling service develops.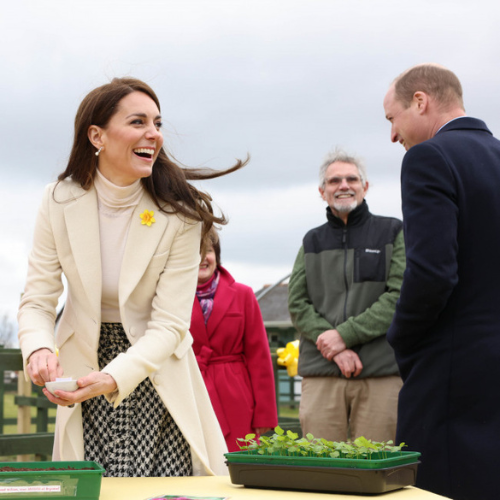 The Prince and Princess of Wales
The Prince and Princess of Wales have pledged their long-term support to a therapy garden project in Wales.

The royal couple visited Brynawell Rehabilitation Centre in South Wales on Tuesday (28.02.23), where they met with the founder of Life at No.27, Annabelle Padwick, who has set up vegetable gardens to help boost mental well-being.

Speaking to People, she said of Prince William and his wife Catherine's visit: "It wasn't just a 'hi' – they are interested in people's stories and really wanted to know about peoples' experiences and their journeys. And they really care and want to try and help make a difference.

"That's why it wasn't just a visit —they've announced that partnership with us to ensure that longevity, and they've said they will come back when it's midway through the build and when it's up and running.

"This is them coming to help make a big difference with a long-lasting project — instead of them coming here and saying hi and leaving again."

The project is receiving funding from the royals and British Airways, who are matching donations, and William and Catherine have vowed to return to the site to see how it grows.

Annabelle continued: "Mental health in itself is a massive project for them, alongside gardening and horticulture, so this brings the two together, which is what we do. They were incredibly interested.

"And it means a lot to them."


The gardens will be opened to members of the public, who could benefit from therapy but don't have access to it.

Annabelle said: "Once we open it up to the community, it will enable those who maybe can't access this kind of thing at the moment."

William, 40, and Catherine, 41, have put Annabelle in touch with various organisations to help with the horticultural therapy and mental health counselling service.

They also got stuck in during their visit, with the princess seen planting Sweet William seeds.

She said: "I usually do this on my own — it's normally me with a spade.

"It is amazing that they have been able to connect me with them to help build it."

Annabelle said: "Their focus is creating a long-lasting partnership but also helping people connect and bringing people together.

"They have smoothed the wheels so that it is easier for us to fundamentally do what we want to do and not get stuck in trying to do it."

Later in the day, William and Catherine paid a visit to Aberavon Leisure and Fitness Centre, where they took part in a spinning contest that saw the future King's wife beat him.