Prince Edward named new Duke of Edinburgh
King Charles has granted Prince Edward the title of Duke of Edinburgh on his brother's 59th birthday.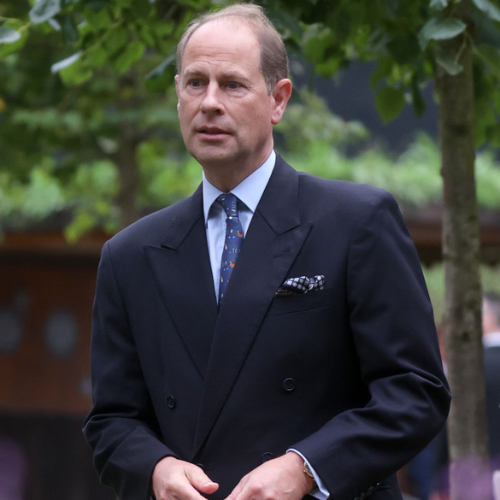 Prince Edward
King Charles has granted Prince Edward the title of Duke of Edinburgh on his brother's 59th birthday.

The 74-year-old monarch has honoured the wishes of his late parents, Queen Elizabeth and Prince Philip, and passed his late father's title on to his youngest sibling, Buckingham Palace announced on Friday (10.03.23).

As well as being Edward's birthday, the announcement was also timed to coincide with the prince's visit to the Scottish city.

Buckingham Palace said in a statement: "His Majesty The King has been pleased to confer the Dukedom of Edinburgh upon the Prince Edward, Earl of Wessex and Forfar, on the occasion of His Royal Highness's 59th birthday.

"The title will be held by Prince Edward for His Royal Highness's lifetime.

"The Dukedom was last created for Prince Philip in 1947, upon his marriage to Princess Elizabeth, who held the title of Duchess of Edinburgh before acceding to the throne in 1952.
🎉 Wishing the new Duke of Edinburgh a very Happy Birthday today!

The King has conferred the Dukedom of Edinburgh upon his brother, Prince Edward, on his 59th birthday.

🔗https://t.co/Yxe8lDc3pe pic.twitter.com/EGQcqrTcKx

— The Royal Family (@RoyalFamily) March 10, 2023


"The new Duke and Duchess of Edinburgh are proud to continue Prince Philip's legacy of promoting opportunities for young people of all backgrounds to reach their full potential."

As Edward is now Duke of Edinburgh, his wife Sophie, the Countess of Wessex, becomes the Duchess of Edinburgh, while their 15-year-old son James, Viscount Severn, will take on the Earl of Wessex title.

In the event of Edward's death, James becomes Earl of Wessex and Forfar, but the Duke of Edinburgh title will be returned to the Crown as it doesn't automatically pass down.

The couple's 19-year-old daughter Lady Louise Windsor's title does not change.

In 2021, Sophie and Edward recalled Philip - who died in April that year aged 99 - asking his son if he would be willing to become the next Duke of Edinburgh in a conversation that took place just two days after they got engaged in 1999.

Sophie said: "We sat there slightly stunned. He literally came straight in and said, 'Right. I'd like it very much if you would consider that.' "

Edward admitted it was a "bittersweet role to take on because the only way the title can come to me is after both my parents have actually passed away."

And he acknowledged that "theoretically", the title should have gone to his older brother, Prince Andrew, who is also the Duke of York.

He added: "My father was very keen that the title should continue, but he didn't quite move quickly enough with Andrew, so it was us who he eventually had the conversation with.

"It was a lovely idea; a lovely thought."

The title has only been created three times since 1726, first for Prince Frederick, the eldest son of King George I.

It was then inherited by Frederick's son Prince George, but when he was named King George III in 1760, it merged into the Crown and ceased to exist.

But Queen Victoria recreated the title in 1866 for her second son Prince Alfred, instead of the traditional Duke of York honour given to a monarch's second son, but it became extinct again when he died in 1900, a year after his only son, also Alfred, took his own life.

In 1947, King George VI created the title again and bestowed it on Philip Mountbatten when he married the then-Princess Elizabeth.