Royal Mint unveils coronation coin collection
A crowned portrait of King Charles will appear on coins for the first time in a special coronation collection, which will be released later this month.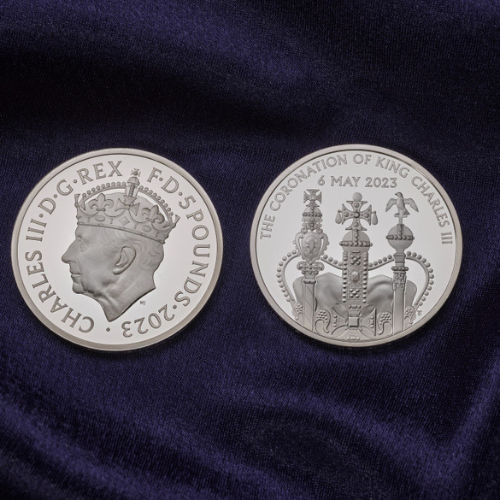 Royal Mint
A crowned portrait of King Charles will appear on coins for the first time in a special coronation collection.

The 74-year-old monarch will formally take the throne at a ceremony in London's Westminster Abbey on 6 May and to mark the occasion, the Royal Mint has revealed a series of commemorative coins, including 50p and £5, that will go on sale on 24 April.

The crowned effigy was designed by artist and sculptor Martin Jennings and features the monarch wearing the Tudor Crown, which was personally selected by Charles because of its heraldic use and appearance in portraits of other 20th century kings, despite the headwear being destroyed in the 1640s. It will only be used for very special collections moving forwards.

Martin said: "Following my work on the uncrowned coin effigy of His Majesty, I am delighted to have had the opportunity to work on a crowned version for the coronation range.

"Each detail of the crown has to be scrupulously correct so it has taken considerable work to get it right. I'm proud to have had the opportunity to realise a design that is both dignified and celebratory for this historic occasion."

The reverse of the collectable 50p features Westminster Abbey, where Charles and his wife Queen Consort Camilla will be crowned next month.

Royal Mint Product Designer Natasha Jenkins, who created the design, said: "I feel so privileged to have had the opportunity to work on this project. I was inspired to feature Westminster Abbey as it plays such an iconic role in the coronation, so I chose to opt for a stylised line drawing of Westminster Abbey that is instantly recognisable with Britain, along with King Charles' cypher and crown to mark him being crowned as King.

"I am always aware of finishing touches during the design stage. This is why I chose a linear design, as I knew the negative areas of the design would be polished, and the relief areas would be frosted. This will give the coin a lot of opportunity for light play.

"In the future I will be able to look back and show my children this coin that I designed for the Coronation and feel proud."

The reverse of the £5 features a design by Timothy Noad and depicts the St Edward's Crown.

The commemorative collection also features a number of ounce coins in various editions and sizes, with each featuring the king's crowned portrait on one side and a design by John Bergdahl on the reverse.

In addition, five million 50ps will enter circulation later this year featuring Martin's original uncrowned effigy of Charles, joining the five million memorial 50ps that were released last year, the first coinage featuring the new monarch.