SERENA TERRY (MAMMY BANTER) SELLS OUT UK / IRELAND STAND-UP TOUR IN RECORD TIME
SERENA TERRY (MAMMY BANTER) SELLS OUT UK / IRELAND STAND-UP TOUR IN RECORD TIME


18 HEADLINE SHOWS ACROSS THE UK AND IRELAND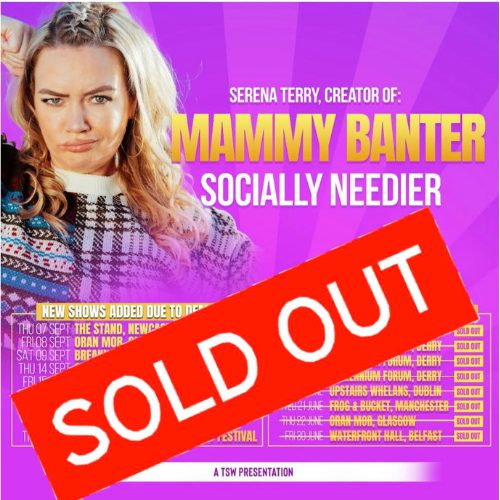 Social media sensation, Sunday Times Best Selling Author and 37 year old Derry native, Serena Terry has sold out her debut UK stand-up tour, Socially Needier, in a matter of hours due to phenomenal demand. The eighteen date tour will see Serena perform across the UK and Ireland and includes two shows in the Waterfront Hall, Belfast and three Millennium Forum shows in Derry.



Serena took the social media world by storm in 2020 via her hilariously relatable comedy skits on Tiktok, Instagram and Facebook as Mammy Banter, and currently boasts over 2.5 million social media followers, wrote a Sunday Times Best Selling Novel (The Secret Life of an Uncool Mum, released March 2022) and best-selling follow-up, 'The Sh!te Before Christmas' in November 2022. Serena voiced the audibles for both books.

In 2023 Serena was named as a Breakout Star by TikTok, she secured a cameo in the global phenomenon Derry Girls and made her debut on the stand-up comedy circuit at The Fringe.




Socially Needier is the debut standup comedy show from Serena Terry that will take audiences on a hilarious journey guided by nostalgic storytelling about Terry's youth, through to her teens and twenties, to the chaos of coping right now as a 37 year old married mum, and how social media has hugely affected not just her life, but everyone's lives, including more recently, her children.



The show will be very much underpinned by the context of the content Serena shares online or writes about in her books. The world is a bit crazy right now right? And social media has a lot to do with that, so she'll be digging into how that challenges us all a bit deeper.



Serena commented; "It's just unbelievable, I never expected such a demand for tickets, or to see me live if I'm being honest. That's not me putting myself down in any way, I just thought I'd have to sell myself a bit more on the ground as audiences have been used to consuming my comedy online via videos or through my books for the last three years. It's unbelievably flattering to know people want to see me deliver that live on stage and it is a massive confidence boost for someone who within the standup circuit, is still considered a newbie. I'm extremely grateful and humbled for that vote of confidence, I've a lot more freedom with my storytelling at a live show rather than being constrained by the time limits of short form content on TikTok, and that's really exciting."



Joe Dougan, Promoter at Shine and TSW claims the huge demand for Serena's comedy is due to her hard work over the last three years online and as an author. "The sheer demand for tickets and instant sellouts across every single venue in both the UK and Ireland is testament to Serena's ardent and loyal fanbase who she's grown single-handedly over the last few years."


Serena recently signed with the incredible Shelley Lowry at the end of last year so now with her help and support, and that of the amazing team at TSW, she is laser focused on perfecting the Socially Needier tour. It kicks off in June and will run through until October, so the next few months are all about prep for that. "I'll still be spitting out my TikToks as much as possible and I've a few other exciting projects on the go, but, due to me not wanting to burn myself out or enduring the worst case of wife and mammy guilt ever, I can't see me finding the time to write the third book, but hopefully next year! If I can continue to make people laugh, and also begin to earn a living, I'm happy".


You can follow Serena's journey and view her hilarious videos on TikTok, Facebook or Instagram or purchase her latest two novels on Amazon or all major bookstores. Her sellout show Socially Needier kicks off in Belfast on June 2nd and will wrap at the Galway Comedy Festival on October 26th. Tickets are also due to be announced soon for her second time gracing the stages of Edinburgh Fringe Festival later this month.