Sunday Life Spirit of NI Awards, in partnership with Ulster Bank
Sunday Life Spirit of NI Awards, in partnership with Ulster Bank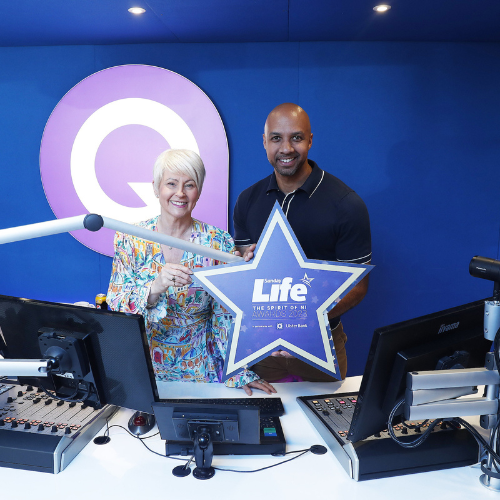 Pamela Ballantine and Ibe Sesay

The deadline is fast approaching for the Sunday life Spirit of NI Awards in partnership with
Ulster Bank. The awards are Northern Ireland's biggest annual celebration of ordinary people achieving
extraordinary things, and we are calling on you to nominate your unsung heroes. The deadline for nominations is 30 th April 2023. Spearheading the call for entries to this year's Spirit of Northern Ireland Awards, in association with Ulster Bank, is Derry Girls and Game Of Thrones star Ian McEhinney, a veteran member of our judging panel. He said: "I'm constantly amazed by what various people have done over the years in terms of the community. "It's very impressive and very moving, so it's great to be involved and support it again. "I'd encourage people to nominate this year because it's amazing what various people have
done. "Very often, the world doesn't know until someone says, 'Do you know what? I'm going to
propose somebody'. "It's important for us to know the degree to which people put themselves out for others, and I think it's a great agenda.

"The stories of what people have done, what people are prepared to do, they take your breath
away sometimes because you ask yourself, 'If it were me, could I do that? Would I do that?
Would I have the stamina? The strength? The willingness to commit?'. "I'm always impressed and overwhelmed in many ways by what people do." We are seeking people who have demonstrated a spirit of compassion, neighbourliness, charity, courage or devotion, or those who have gone beyond the call of duty in the fields of education, the emergency services, the caring sector, health or sport. All nominations are welcome. The awards show will take place at the Culloden Resort and Spa in Cultra on Friday, June 30,
with many famous faces in attendance.

Martin Breen, deputy editor-in-chief of Sunday Life and Belfast Telegraph, said: "The people of
Northern Ireland have really taken these awards to their hearts as they celebrate the wonderful
people who live here. "This event has just got bigger and better each year, and that is thanks to the hundreds of people who nominate the unsung heroes in their lives each and every year and all those who help
support it, including our overall sponsor Ulster Bank and all the other category sponsors.
"I am always truly humbled and inspired by the stories of those inspirational people we are
delighted to honour each year. "These awards are about the people who are nominated from every corner of Northern Ireland — people who truly deserve but do not seek recognition for their great deeds.
"As a newspaper with a strong community spirit, it is our honour to give them this time in the
spotlight. "Terry Robb, head of personal banking at sponsors Ulster Bank, added: "We are really excited to
team up with Sunday Life once again for the Spirit of Northern Ireland Awards, in partnership
with Ulster Bank. "As a purpose-led bank, supporting our customers and their communities is at the heart of
everything we do, so partnering with Sunday Life on these awards is a fantastic way for us to
celebrate the many unsung heroes who show us just how powerful community spirit can be and
how much can be achieved by helping each other and working together."

The awards
Unsung Hero: Someone whose great deed or deeds have previously gone unnoticed but who has made a major contribution to your life or to your community.
Overcoming Adversity: Someone who has overcome huge personal challenges, whether it is dealing with illness or disability or overcoming problems.
Spirit of Youth: Someone under the age of 18 who should be recognised for their special achievements.
999 Hero: A member of the emergency services who has gone above and beyond the callof duty in their job.
Charity Champion: Someone who has worked tirelessly for a charity or as a fundraiser for many years.
Spirit of Health: A medical professional who has gone the extra mile to improve the health and wellbeing of their patients.
Spirit of Education: A truly inspirational teacher who has helped children and young people fulfil their potential.
Caring Spirit Award: A person, young or old, who has dedicated their time to caring for a
friend or family member.
Spirit of Sport: Someone who has made an exceptional contribution to sport over a
number of years.
Environmental Hero: Seeks to recognise an individual or community group that has gone
the extra mile to care for and protect the local environment for future generations.
Special Recognition: Someone who the judges feel represents the Spirit of Northern
Ireland by selflessly serving others and being an inspiration to us all.
To put someone forward for an award, email spiritofniawards@sundaylife.co.uk with details of why your nominee should be recognised before the end of day on 30th April