Tiësto Announced For Royal Hospital Kilmainham - 26 August 2023
Tiësto Announced For Royal Hospital Kilmainham

26 August 2023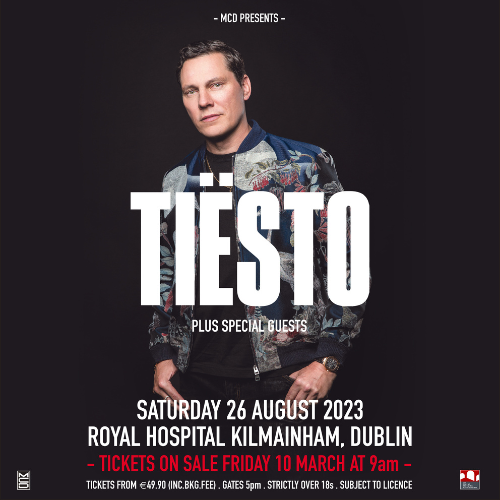 Tiësto Announced For Royal Hospital Kilmainham

Tickets go on sale this Friday at 9am

GRAMMY® Award-winning, RIAA platinum-certified international icon Tiësto has announced a Dublin date at Royal Hospital Kilmainham on Saturday 26th August 2023. Tickets from €49.90 including booking fee go on sale this Friday at 9am. Subject to license.

Tiësto is a pillar in electronic music and an artist that transcends beyond that – Tiësto is an experience. The artist born Tijs Verwest has found a particular sweet spot in this crossover realm, gaining critical acclaim and millions of new fans with a litany of hits including his first single upon signing with Atlantic Records, "The Business," which has dominated airplay and charts worldwide since its September 2020 release, hitting #1 at US Dance radio while also garnering over 1.7B worldwide streams to date. A top 10 hit in ten countries, as well as a Top 50 success on Spotify in thirty-one countries, "The Business" was honored with "Best Dance/Electronic Recording" nomination at the 64th Annual GRAMMY® Awards along with 15 platinum certifications and eight gold certifications in countries around the world. "Don't Be Shy" with Karol G followed, marking Karol G's first-ever English language song and the first Latin Artist collaboration for Tiësto. The historic track currently boasts over 1B streams.
"The Motto" with Ava Max proved another blockbuster, reaching the top 5 on Billboard's "Hot Dance/Electronic Songs" chart while earning more than 1.1B worldwide streams to date. "Hot In It" with Charli XCX reach the top 10 on Billboard's "Hot Dance/Electronic Songs" chart, fueled in part by over 200M views across TikTok and IG Reels and over 193M streams to date. "10:35," the worldwide hit single co-created by Tiësto and multi-platinum singer/songwriter Tate McRae in partnership with Dubai's new ultra-luxury resort Atlantis The Royal, proved an immediate success upon its release late last year, earning over 269M worldwide spins while ascending to the upper reaches of singles charts around the globe, including the top 5 on Billboard's "Hot Dance/Electronic Songs." The crowning achievement of the last several years of his career will be at the forefront with the release of his forthcoming album Drive this April.

Tiësto at Royal Hospital Kilmainham on Saturday 26th August 2023. Tickets from €49.90 including booking fee go on sale this Friday at 9am. Subject to license