Travis Barker teases release date for Blink-182's new album
Travis Barker has revealed when he expects Blink-182's new album to be released.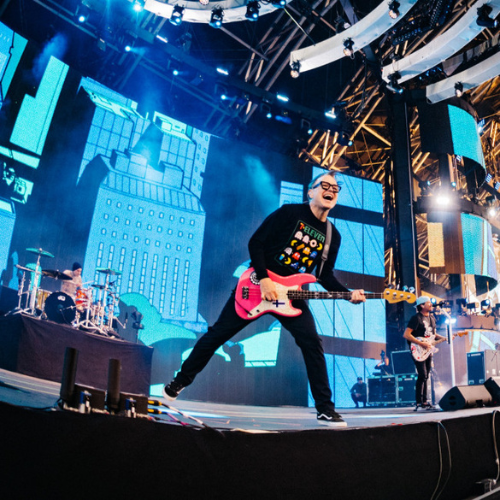 Travis Barker, Mark Hoppus, Tom DeLonge
Blink-182's new album is likely to be finished before they complete their upcoming tour.

The rock band are set to embark on a world tour later this month, and Travis Barker - the group's drummer - has revealed via social media that they expect to have completed the record before they finish the tour.

Travis - who is married to reality star Kourtney Kardashian - wrote on Twitter: "Album will be finished before we leave on tour."

Earlier this year, Travis was forced to undergo surgery to repair a torn ligament in one of his fingers.

The drummer hurt the finger twice during rehearsals in February and he recently confessed that it also caused him some discomfort during the band's performance at Coachella.

He wrote on the micro-blogging platform: "2 Coachella weekends in a row with an unhealed finger. Recorded last 4 songs on the album while I still had stitches. Tour in 4 days (sic)"

Blink-182 announced their reunion and plans for a world tour in 2022, and Mark Hoppus previously admitted that he felt relieved to share the news with the world.
He told 'After School Radio' on Apple Music Hits: "Man, I feel like a weight has been lifted off my shoulders. That was a burden to carry that secret for so long."

Mark, 51, also recalled being asked by a fan about a possible reunion during a baseball game.

He shared: "I was at the Dodgers game the other night, and a fan came up. It was a guy and his wife, probably late twenties, early thirties.

"We take our picture, and he's like, 'I love your band. Grew up on your band.' He's like, 'Dude, is there any way, any way at all?' And I'm like, 'Any way for what?' And he's like, 'Is there any chance of a Blink-182 reunion tour with Tom back in the band at all?' And he had such hope and desperation in his eyes, and I just wanted to put my hand on his shoulder and say, 'My friend, just you wait. Just wait three, four more days.'"