Lukas Gage talks Chris Appleton romance rumours
Lukas Gage has further added to the speculation he is dating hairstylist Chris Appleton with a new interview.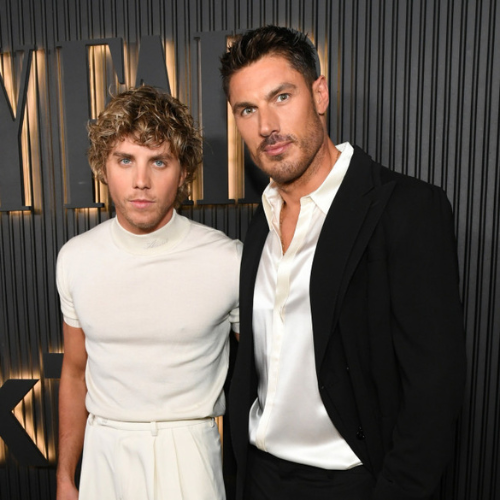 Lukas Gage & Chris Appleton
Lukas Gage is happy for people to think he's dating Chris Appleton.

The 'You' actor has been subject to speculation he's romancing the celebrity hairstylist after they recently enjoyed a vacation to Mexico and walked the red carpet together at the Vanity Fair and TikTok's Vanities: A Night for Young Hollywood event in Los Angeles earlier this week, and while he refused to confirm the gossip because he's struggling with the "weird line" about being in the public eye and keeping some things to himself, he didn't entirely dismiss the story.

Asked about the romance rumours, he told the New York Times newspaper: "If they want to think that, they can.

"I'm a pretty open book about most things in my life, but I have a problem with the culture of everyone needing to know everybody's business and nothing can be sacred. It's a weird line that I'm still trying to figure out."

Last year, the 27-year-old star hit back at a Twitter user who accused him of taking queer roles away from the LGBTQIA+ community, and defiantly declared "You don't know my alphabet", and Lukas has now admitted he often feels pressure to label himself.

He said: All the time. An agent that dropped me was like, 'Stop dyeing your hair, stop wearing weird clothes and pick a lane: gay, bi or straight. It's too confusing.'

"I understand representation and voices that need to be heard, but I don't want to do anything on anyone's accord but my own. Let me do it when I'm ready. And it's acting. I feel like everyone should get the opportunity to play whatever they want."

Following the publication of the interview, the 39-year-old hairdresser - who has worked with the likes of Kim Kardashian and Jennifer Lopez - shared a photo from the newspaper on his Instagram Story and wrote: "Hot talented @lukasgage.(sic)"