Sam Thompson teams up with Pete Wicks to improve men's mental health with new Baylis and Harding collection
Sam Thompson and Pete Wicks have teamed up to help men's mental wellbeing with new Baylis and Harding Goodness Men's collection.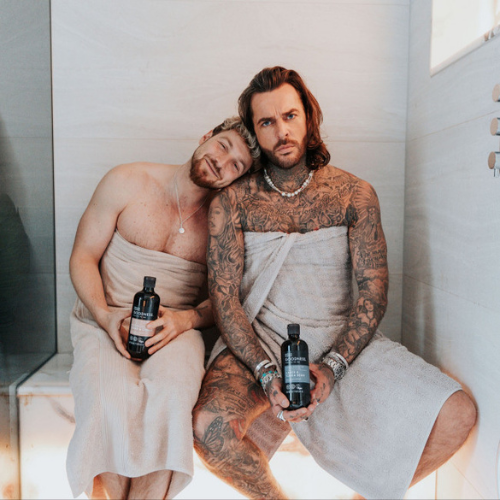 Sam Thompson and Pete Wicks
Sam Thompson and Pete Wicks have joined forces to help men's mental health with new Baylis and Harding collection.

'Made in Chelsea' star Sam and Pete - who found fame in 'The Only Way is Essex' - have collaborated on the new Baylis and Harding Goodness Men's collection in order to help guys look after their wellbeing to coincide with mental health awareness week, which runs from May 15 to May 21.

The stigma surrounding men and mental health has caused a significant gender suicide gap, with suicide rates being higher for men compared to women, as men are told to present as "strong" and "be a man" by suppressing their emotions.

According to new research conducted by luxury bath brand Baylis and Harding, 85 percent of British men reported feeling stressed, while 46 percent of men surveyed admitted that work is their biggest cause of stress followed by finances, health and the current cost-of-living crisis.

Radio presenter Sam - who has been candid about mental health struggles - urged the importance of prioritising self-care.

The 30-year-old celebrity said: "This study proves what I already know to be true, that prioritising mental health is the most important form of self-care for more than two thirds of men.

"It's really important that men take the time to do proper self-care and look after their mental wellbeing to release the stress of day-to-day life, which is why I'm so happy to be working with Baylis Harding on its new Goodness Men's range as they are highlighting the simple act of a cold shower can benefit the body and mind alongside the product's natural ingredients

"Personally, I love a sit-down shower to wind down or a cold shower to get me focused and spa diffusers, especially peppermint, while reading and playing with my cats also does the trick."

Pete added: "It can often be a struggle for men to really take the time to de-stress and focus completely on their own mental health – something which I myself have been guilty of.


"Teaming up with Baylis and Harding, we're hopefully encouraging more men to actively take that time to reflect and focus on themselves, their mind and their body. For me self-care doesn't have to be a big thing, it can be something small like taking a shower, a walk or even spending time with family and friends that can really help me reset my mindset."

Tania Slater - co-founder of Baylis and Harding - said: "Despite the all-important mental health benefits of self-care, British men spend an average of just 30 minutes on their daily routine.

"Simple things like taking a shower can make a huge difference - you can enjoy a wellbeing boost by adjusting the water temperature, with countless studies showing that cold showers stimulate the release of endorphins which reduce depression and anxiety symptoms, as well as improving circulation."