Mark Ronson teases Miley Cyrus' '11/10 vocal' on their track High
Mark Ronson has told fans they can expect unreal vocals on his upcoming Miley Cyrus track 'High' from the singer's seventh album.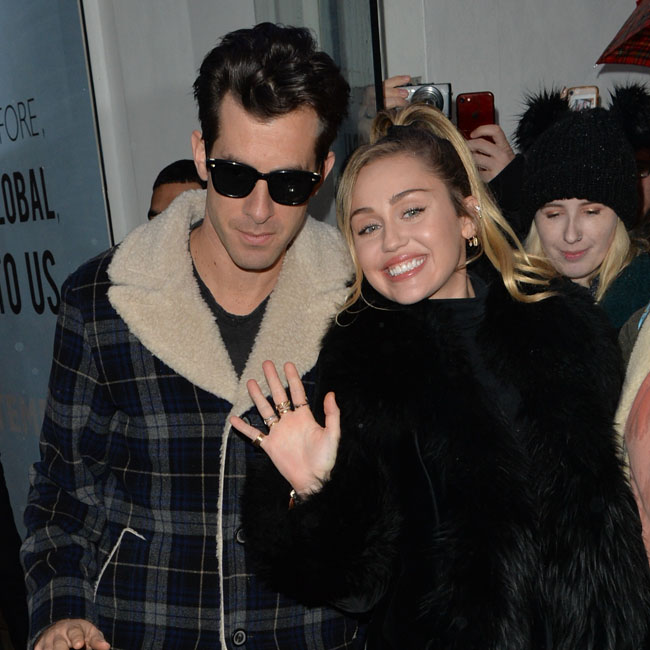 Mark Ronson & Miley Cyrus
Mark Ronson has teased the killer vocals on his Miley Cyrus collaboration 'High'.

The pop star previously teased that there will be two or three songs with the studio wizard - who she hooked up with on mega-hit 'Nothing Breaks Like a Heart' - on her hotly-anticipated seventh record, which will have "Joan Jett vibes".

She said: "Me and Mark, we have about two/ three songs on my next project together ... kind of like Joan Jett vibes to it, just bringing back rock n roll.

"I currently have my dad's haircut, I'm excited to bring that also."

And now, the 'Uptown Funk' hitmaker has teased that Miley's vocal is "11/10" on the track.

Sharing a tweet by a Miley stan account, which reads: "@MileyCyrus confirmed a new song produced by Mark Ronson that will be on the album called "High"! #M7 #MidnightSky", he added: "this song will make you call every ex you ever had. Miley's vocal is 11/10 (sic)"
This single is wonderful. And can't wait for you to hear what's karming @MileyCyrus pic.twitter.com/H1Hf81oivo

— Mark Ronson (@MarkRonson) August 14, 2020
Miley - who has just split from boyfriend Cody Simpson - recently dropped the lead single, 'Midnight Sky', which is about her reclaiming the narrative about her life and split from ex-husband Liam Hemsworth, whom she separated from in August 2019 after seven months of marriage and had their union legally ended in January 2020.

The 27-year-old star previously revealed her new album is "genre-less", whilst she teased a duet with punk rock legend Billy Idol called 'Night Crawling'.

The lyrics for the latter track reportedly include: "Gotta listen when the devil's calling."

Whilst on another verse, she confesses: "Sometimes I'm good for nothing, sometimes the best you ever had. Sometimes I need your loving, sometimes I stab you in the back."

On her diverse-sounding album, she previously teased: "There's psychedelic elements, there's pop elements, there's more hip-hop-leaning records.

"You know, in the same way I like to kind of just be genderless, I like feeling genre-less."

Miley's last LP was 2017's 'Younger Now'.