WILD YOUTH ANNOUNCE BELFAST SHOW AT LIMELIGHT
Forever Girl Tour 2022

WILD YOUTH
& Guests

Limelight 2, Belfast
Sat 5th March 2022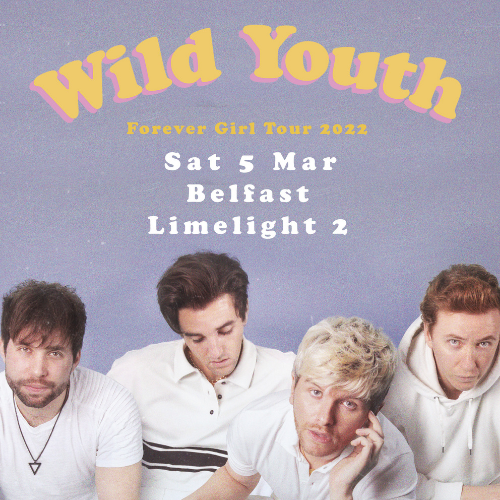 Wild Youth live at Limelight 2

Tickets £14.50 + Booking Fee from ticketmaster.ie

18+ Only / Doors 7pm / EARLY SHOW

Stream Forever Girl Here

Irish pop connoisseurs Wild Youth are pleased to announce a headline Belfast show at Limelight 2 on Saturday March 05th 2022. The four-piece recently released their much-anticipated sophomore EP Forever Girl. Tickets on sale Friday April 09th at 10am from www.ticketmaster.ie and www.limelightbelfast.com

With this spellbinding and unpredictable catalogue of six tracks, Forever Girl highlights Wild Youth's determination to not be labelled as your average pop group, showcasing a collective diversity and boldness when it comes to sonic risk taking. Though spanning in style and execution, from the flirtatious "Champagne Butterflies" to the abrasive powerhouse anthem "Can't Say No", one thing consistently remains across Forever Girl: their ability to craft credible music and exhilarating choruses calling for 'out of body' experiences, whilst simultaneously maintaining their homegrown, humble values.

With two refreshing new tracks – the buoyant pop stylings of "Weekend Rockstars" and "Wasted Without You" – joining the thrilling singles "Next To You", "Through The Phone", "Champagne Butterflies" and "Can't Say No", Forever Girl follows widespread tastemaker approval from the likes of WONDERLAND, THE INDEPENDENT IE, POPJUSTICE, OFFICIAL CHARTS, EUPHORIA MAG, HOT PRESS, WHEN THE HORN BLOWS and ATWOOD MAGAZINE amongst extensive editorial blog hype.
Can't believe we are saying this, but we are going on tour again. We have missed this so much and can't wait to be back with you all doing what we love.

Pre-sale tomorrow at 10am from https://t.co/pEVmkwyWSd.
General sale on Friday at 10am. pic.twitter.com/yVeTJqlRsI

— Wild Youth (@bandwildyouth) April 7, 2021


A constant mainstay on Irish airwaves and music charts since their debut in 2017, Wild Youth's burgeoning international appeal has seen them become an equally present force across streaming platforms through their Forever Girl singles. With well over 10M streams on Spotify alone to their name, Wild Youth have been landing multiple New Music Friday placements on Spotify, alongside becoming the face of their New Pop UK playlist twice amongst vital placements across key editorial playlists including The Pop List, New Pop Revolution, Happy Pop Hits, Fresh Pop, The Pop Lounge and Songs That Carried Us Through 2020. Apple Music have supported Wild Youth via A-List Pop, Breaking Pop and Alt Pop placements in addition to landing Pop Freshon Deezer and The Best New Music on Shazam.

With the support of their loyal and ever-growing fanbase who remain thirsty for their signature catchy choruses, David Whelan, Conor O'Donohoe, Ed Porter and Callum McAdam's unapologetic creativity has seen them tour alongside household names like Mumford and Sons, The Script and Niall Horan, as well as recently secure a major slot on RTE's The Late Late Show to perform their hit "Next to You".

Arriving as the cherry on top of a hugely successful year thus far, Wild Youth's Forever Girl EP encapsulates the heartfelt, joyous nature of the band and acts as a significant milestone in the band's journey towards inevitable global domination.


WILD YOUTH – FOREVER GIRL EP
1. Weekend Rockstars
2. Can't Say No
3. Next to You
4. Champagne Butterflies
5. Wasted Without You
6. Through the Phone