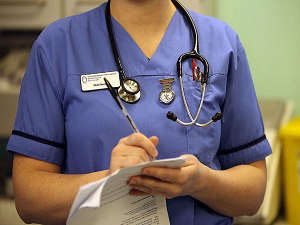 Claudia Savage (PA)
Unions have said they will pause further strike action by healthcare workers after securing a meeting with Northern Ireland Secretary Chris Heaton-Harris over pay.
Mr Heaton-Harris and the Department of Health have agreed to meet representatives next week.
Hundreds of healthcare workers from across Northern Ireland went on strike on Friday as part of a dispute surrounding pay.
Unison and Nipsa members, including representatives from the Northern Ireland Ambulance Service (NIAS), protested at Belfast City Hall after the Department of Health said it could not make a formal pay offer.
The strike was set to continue on Monday but the union has agreed to pause the action to facilitate negotiations.
Unison has 40,000 members in Northern Ireland representing a range of public sector workers including nurses, paramedics, midwives and pharmacists, as well as admin and clerical staff.
The union said they will return to strike action if a meaningful offer is not presented.
"This must be real or the strike action will escalate," it said in a statement.
Workers across the public sector have been taking industrial action in recent months over concerns that wages are not matching the rate of inflation.
Unison says health workers in Northern Ireland are being left behind the rest of the UK.
Healthcare worker Cormac Craig said the strike was a response to pay discrepancies faced by workers in Northern Ireland.
"We're short-staffed, we're underpaid, in fact we're actually fourth class citizens in the UK based on pay alone," he said.
"We're standing here because we've had no offer. Every other union in the UK have got an offer from the Government, we don't.
"We have to be here. We don't want to be on strike, we want to be on the wards, we want to be in our jobs, but they've left us no choice."
Domiciliary care worker Cheryl Lawson said workers in Northern Ireland were being ignored by the Government.
"We're low paid, the system around us is crumbling, we need something set in place," she said.
"Across the waters (they have) been given offers, we haven't been given an offer, it's ridiculous. We shouldn't be thrown to the side.
"We're ignored because of where we live."
The Department of Health said: "The department fully understands the frustrations of staff and the severe challenges they have been working under.
"As things stand, the department is not in a position to make a formal pay offer.
"This reflects the current absence of a budget for 2023/24 and the expectation of a significant financial shortfall.
"We are potentially facing high-impact cuts on health and social care services that are already under considerable pressure.