Joe Wicks' PE lessons raises £100k for NHS
The Body Coach Joe Wicks has raised nearly £100,000 for the NHS through his YouTube videos 'PE with Joe'.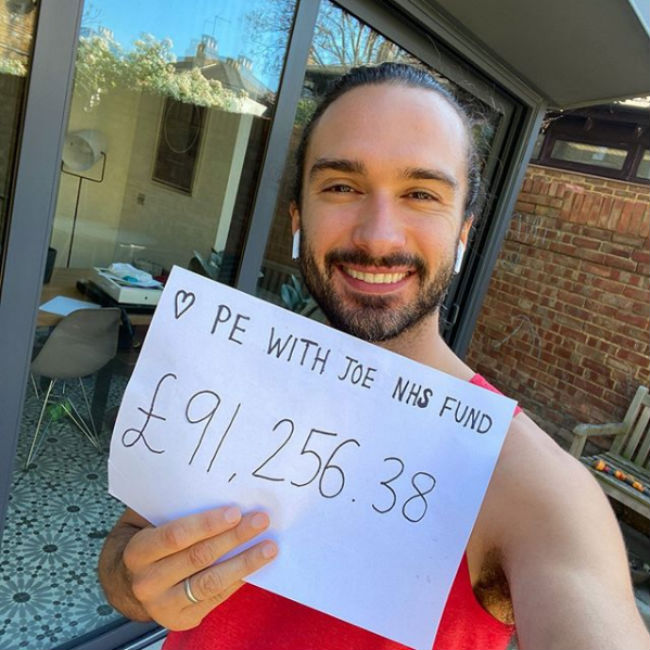 Joe Wicks' online PE lessons have raised nearly £100,000 for NHS Charities Together.

The 33-year-old fitness guru - who is also known as The Body Coach - has encouraged the nation to get fit during the coronavirus lockdown with his YouTube series 'PE with Joe', and promised to donate the money from the advertising revenue to the NHS' official charities.

He shared a snap on his Instagram account of himself holding a piece of card with £91,256.38 on, and he wrote: "I'm super happy to announce that as a global community training together with #pewithjoe we have raised an incredible £91,256.38 for the @nhscharitiestogether fund

"This is every penny so far raised from the 20 workouts we have done together. Thank you so much for taking part and helping raise all this money for a cause which I feel we can all be proud of. (sic)"

Joe hopes to increase the total over the next few weeks by continuing to offer daily PE lessons.


He added: "The great news is we can grow this number even bigger each week by coming back and tuning in again.

"Will I see you tomorrow at 9am? To all the NHS staff we LOVE and appreciate you #PEWithJoe (sic)"

Joe first launched a series of exercise classes for kids to do from home to ensure they're still getting exercise after schools across the UK closed because of the coronavirus pandemic.

He has since snubbed the chance for his own TV show, to ensure everyone can join in.

Joe added: "Thank you with all my heart for generating this and helping us raise money. It's going to get bigger, the numbers are going to grow.

"The more workouts we do together over the next month it's going to get a bigger number and we can donate even more. So thank you so much."