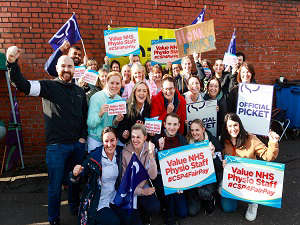 Claudia Savage (PA)
The morale of healthcare workers in Northern Ireland has "never been lower", a union representative has said as extensive strike action began on Thursday.
Thousands of healthcare workers will go on strike for 48 hours in calls to achieve pay parity with workers in other parts of the UK, as well as to advocate for more funding for the health service.
Workers from a number of unions including Unison, Unite and Nipsa, as well as the Society of Radiographers, will join picket lines outside hospitals across Northern Ireland.
The Chartered Society of Physiotherapy (CSP) also joined industrial action on Thursday morning, with the Royal College of Midwives (RCM) announcing its intention to strike on Friday.
Kevin McAdam, lead officer for Unite, said the action was a continuation of strikes from last year, and workers wanted to "make sure the healthcare service is sustained".
"As workers, our claim is to those that can pay, and currently that's the British Government, is to give our workers what they've afforded to people in England and Scotland and Wales. We want at least that's what we're looking for," he said.
"We're not into politics. It's not who should pay, the Government pay the health service and they need to pay the health service workers."
Mr McAdam said workers were facing a "morale deficit".
"The workers are at the coalface and know what's going wrong, but they also have a morale deficit that they really can't cope with. People are just at the end of their tethers, and another thing they don't have is – they have no forward vision, they can't see a pay rise.
"No pay rise for this year when inflation is running (high) so that's just intolerable, so what is the morale like? It couldn't be lower."
Beth Lockhart, a band five radiographer, joined colleagues outside the Royal Victoria Hospital in Belfast.
Ms Lockhart said the lower pay for healthcare workers in Northern Ireland was adding to staffing pressures as people looked to other parts of the UK for higher wages.
"The reason that we're out here is all for the patients because at the minute we are so thinly stretched because we're not able to retain staff," she said.
"We're kind of pushed to the max that we kind of can be.
"We also are looking for a pay raise because we are so far below England at the minute. That's part of the reason why it's so hard for us to keep staff and have enough staff to treat all of our patients."
Asked if the health service was in jeopardy, Ms Lockhart said it was "borderline at that point".
"Today we ensure that we have the right amount of staff so that no patient safety will be compromised," she said.
"Patients will be able to get the X-rays and stuff that they do need, but it just is on a daily basis, it feels like the waiting lists are so long, patients are waiting so long. That's kind of what is the most concerning part."
Consultant physiotherapist Julie Grant and physiotherapist Graham McKee said they were "supporting their colleagues" on strike on Thursday morning.
"As physiotherapists we want to be there for the patient but increasingly we're struggling to provide the best service that we can because of the resources and funding for our services, and we're out here today to raise awareness of that," Mr McKee said.
Ms Grant said workers' pay rates were not covering the increasing cost of living.
"It's very hard to keep staff motivated and burnout is a big issue, and trying to ensure that staff feel recognised and valued.
"And I think in the current situation where your bills, your mortgage, all your utility bills are going up, your salary is not stretching and it needs some recognition.
"As one of my colleagues said earlier, we have to do more than just have people clapping for us, at the end of the day, we're vital services and we have to acknowledge that and support it and really invest in it."
Norman Cunningham, secretary of the Northern Ireland Ambulance Service branch of Unite, said workers had "never seen it as bad".
"Staffing levels are at an all-time low, morale is in the gutter," he said.
"And just the fact that people aren't being paid for what they do is a major issue for us. This isn't just about pay, having said that, it's about safe services and it's about patients overall. We're out here for the patients, because it's the patient services that are suffering overall."
Mr Cunningham said that emergency services would be trying to mitigate health impacts caused by the 48-hour strike, but that those needing to use the health service were suffering "on the day and daily".
"The patients aren't getting their services every day, and yes, while today may be a sort of an inconvenience for people, we're still, in the ambulance service, providing an emergency service.
"We don't particularly want anyone to be coming to any great harm, but the services have been defeated over a number of years. So the patients are suffering and suffering daily, not just today and tomorrow."
The executive and assembly have not been functional for more than a year due to the DUP's ongoing boycott of powersharing in protest against post-Brexit trading arrangements.
Mr Cunningham called on the Secretary of State, Chris Heaton-Harris, to make the necessary pay awards in the absence of devolved government.
"I think what Chris Heaton-Harris needs to be doing is step up to the plate, pay people for what they're doing, and fund services appropriately, so we don't have situations like this which we are regretful to take," he said.