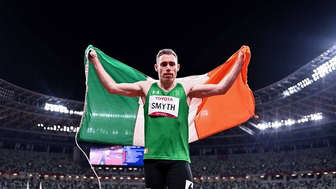 Q Radio Sport
Irish sprinter Jason Smyth has won gold in a photo-finish at the Paralympics.

He finished first by one-hundredth of a second to retain his T13 100m title.

The 34-year-old from Eglinton remains unbeaten in a 16-year Paralympics career and now has six gold medals.
BREAKING

GOLD for @smyth_jason - AGAIN!

The sprint star from Eglinton has retained his T13 100m title in Tokyo - with a time of 10.53 secs

Sensational!@ParalympicsIRE #ParaAthletics#Paralympics #Tokyo2020 pic.twitter.com/2SFhebfcSj

— Q Radio News (@qnewsdesk) August 29, 2021
Sunday's success followed a gold medal for a Seaforde star on Saturday:
GOLD for County Down girl Bethany Firth at the Paralympics

She was a member of the GB & NI S14 mixed 4x100m freestyle team in a world record performance in Tokyo.

Gold number 5 for @BethanyFirth2
#Tokyo2020 #Paralympics

Sport on air on the hour pic.twitter.com/7b2Hg9Ot0V

— Q Radio News (@qnewsdesk) August 28, 2021
A new women's world record has been set at the Antrim Coast Half Marathon in Larne.

Ethiopia's Yalemzerf Yehualaw took 19 seconds off the previous best with a time of 63 minutes, 43 seconds.
WORLD RECORD - on the Antrim Coast!

Ethiopia's Yalemzerf Yehualaw @YalemzerfY🇪🇹takes 19 seconds off the world half marathon record, with an incredible time of 63 minutes and 43 seconds at #AntrimCoastHalfMarathon @larneac

Sport on air on the hour pic.twitter.com/TQUmUPWcau

— Q Radio News (@qnewsdesk) August 29, 2021