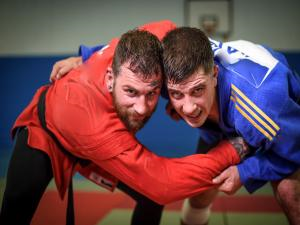 By Q Radio news
The countdown's underway for the first ever international Sambo martial arts tournament in
Northern Ireland.
More than seventy athletes from eight countries have begun arriving in Ballymena in readiness for Saturday's event in the Seven Towers Leisure Centre.
Teams from the USA/Canada, Russia, England, Trinidad & Tobago, Cameroon,
France, the Netherlands and Northern Ireland will compete in different weight levels
for top honours.
(Northern Ireland team leader, Karl St John speaking to Ray Hayden)
Northern Ireland team leader, Karl St John, says he and his eight colleagues are
ready for what promises to be an intense and hotly contested competition.
Karl says: "This is our first time we have a team in the tournament, and we're eagerly
looking forward to it. We are up against very skilful and experienced Sambists, but
that isn't to say we're not in with a shout.
"This is our first big outing and we intend to feature in all future Sambo events.
Sambo is a blend of judo and wrestling. It's big, and getting bigger, as an
international sport and we don't want Northern Ireland to be left behind."
Michael Wynne-Parker, President, Commonwealth Sambo Association, says he's
delighted the event is taking place in Northern Ireland.
Michael adds: "We have been overwhelmed by the welcome we have received in
Ballymena. The excitement's building and we're hoping for a wonderful event on
Saturday.
"We would like to leave a sporting legacy after Saturday with the opening of new
clubs with first-time and enthusiastic followers of what is a wonderful self-defence
discipline."
The tournament gets underway at11.30AM with an opening ceremony and
admission to Seven Towers Leisure Centre is free.