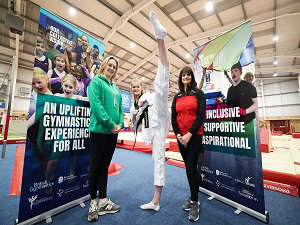 Q Radio Sport
For the first time ever, gymnastics' national governing bodies across all four home nations have come together to create a new vision for a new era for gymnastics that puts positive experiences at the heart of the sport.
Titled 'Leap Without Limits', the new vision sees Gymnastics Northern Ireland, British Gymnastics, English Gymnastics, Scottish Gymnastics and Welsh Gymnastics united in committing to a single clear goal –
to deliver an uplifting gymnastics experience for all
– with a shared purpose of together ensuring that
gymnastics is safe, enjoyable, and open to everyone
.
The launch of the new 'Leap without Limits' vision in Northern Ireland took place on Monday, 20th March at Salto, City of Lisburn Gymnastics Centre. Speaking about the significance of the new vision in Northern Ireland, Robyn Hastings, Chair of Gymnastics NI said:
"Gymnastics Northern Ireland, alongside our other home nations, recognises that the new vision represents a highly significant moment for our sport, putting positive experiences for all at the heart of everything we do. We are very grateful to everyone who has helped to shape this new vision including gymnasts past and present, parents, coaches, judges, volunteers, staff, and partner organisations.
The new vision has also been welcomed by Salto, City of Lisburn CEO, Mandy McMaster, who said: "Here at Salto, we have over 2000 people using our facility on a weekly basis, including schools, parent and toddler groups, recreational classes and squads.
"We recognise that the benefits of gymnastics are far reaching and should be accessible to everyone. It has been a successful year for many of our top gymnasts here at Salto, with Eamon Montgomery and Ewan McAteer finishing fifth and sixth respectively in the floor and vault finals at the Birmingham 2022 Commonwealth Games, and Eamon achieving sixth place at the World Cup in Baku, March 2023.
"We are very excited as we look forward to the British Gymnastics Championships, at the Exhibition Centre in Liverpool, later this week (March 23rd-26th), to watch our young gymnasts Chester Enriquez and Michael Carson-Maguire compete on a world stage in the U16s and U18s.
"We are supportive of the new vision for gymnastics that puts positive experiences at the heart of all that we do, so we can inspire and support world-class international gymnasts through our high-performance programmes, as well as continuing to make gymnastics inclusive and accessible to all, whether as a foundation sport for other disciplines, or simply as a basis for promoting physical fitness and good mental health."
Irish International gymnast and 2022 Commonwealth Games vault finalist Ewan McAteer recognised the importance of the new pathway for the sport, saying: "Being involved in gymnastics has given me so much, and definitely much more than what people see during those special medal moments. I'm really pleased our sport is uniting behind this important vision of promoting positive experiences and putting the wider impact gymnastics can have right at the heart of the sport."
At the heart of Leap Without Limits is an ambition to harness the power of gymnastics to change lives, enrich and connect communities, building on the aspiration and inspiration the sport provides. Importantly, it recognises the unique role gymnastics plays as a foundation sport in enabling the natural physical exploration, discovery and development of what our bodies can do and the development of important life skills such as resilience and determination.
Amy Stewart, a 17-year-old pupil at Wallace High School, Lisburn, is British Freestyle Taekwondo Campion, coaches recreational gymnastics at Salto and has been doing gymnastics as part of her training programme for taekwondo since she was eight years old. She said:
"Gymnastics has been really important to me as a foundation for my taekwondo training, not only for improving flexibility and strength, but also for my self-confidence and discipline. I am hoping to build on my success at the British Taekwondo Nationals in November 2022 by achieving a place on team GBR to compete at the European Taekwondo Championships in November 2023, in Austria."
Curtis Scott, age 6, from Maghaberry, has special educational needs and participates every week in recreational gymnastics at Salto. Lisa, Curtis's mother, a "Nurture Teacher' and Special Educational Needs Coordinator (SENCO) at a school in North Belfast, explains that gymnastics offers a safe place and structure for her son.
She said: "Gymnastics for children with special educational needs provides a great environment for them to socialise and participate in a collective activity. The physical activity was a huge selling point for us, as many children with autism are very dependent on screentime on their devices. This can lead to isolation and mental health issues in childhood and early adult life.
"The certificates Curtis works towards in his class give him a sense of motivation to work towards a goal, but at the same time allows him to improve at his own pace. It is very good for his self-esteem and confidence whilst building strength and coordination."
Recognition within the new vision of the importance of coaches was well received by Tracy Whittaker-Smith, British Gymnastics' Performance Director and Chair of the Coach Advisory Group, who said: "It's been a difficult time for coaches, but they are vital to gymnastics and its ability to have a positive impact on people, communities and society. It's great to have a vision for our sport like this that we can all get behind which specifically includes a focus on delivering positive experiences for coaches too, and ensuring they are supported to continue the great work being done by thousands across the UK."
Over the course of the coming months, the governing bodies will be developing and sharing plans as to what the new vision means for them and their members.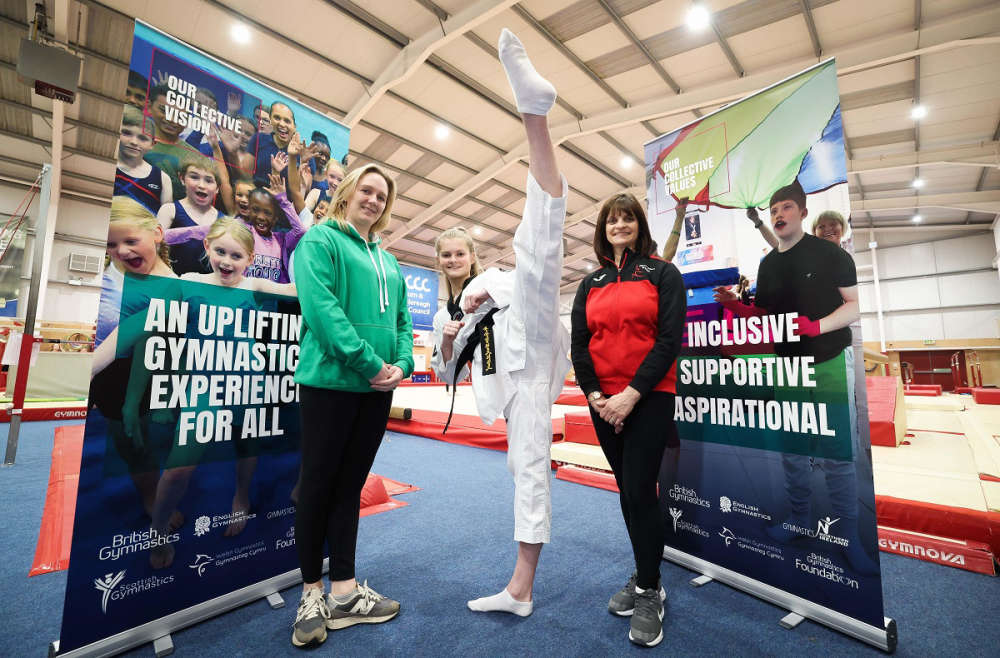 Gymnastics Northern Ireland launches the new UK-wide 'Leap without Limits' vision for a positive experience for all in the sport, at Salto, City of Lisburn Gymnastics Centre. L-r: Robyn Hastings, Chair of Gymnastics NI; Amy Stewart, British Freestyle Taekwondo Champion, gymnast and coach, and Mandy McMaster, CEO at Salto (Picture: Presseye)