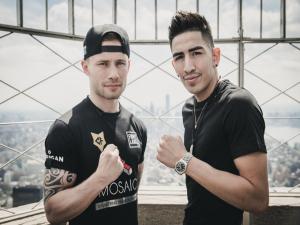 by Kevin McAnena
It's crept up on us. Carl Frampton is Northern Ireland's most popular athlete, but what could turn out to be the defining night of his career in New York has arrived without much of a build up. Like a right hand from the man himself, most of us didn't really see it coming, and now it's here ready to smack us in the face.
Maybe it was the distraction of Northern Ireland and the Republic doing so well at the Euros, or the Olympics approaching, but we've missed a big lead in.
The absence of a press conference or press tour before fight week due to logistical reasons is undoubtedly part of the explanation, but we haven't been able to savour this build up as much as we usually would do.
It's not like we're missing a good narrative.
A win in Brooklyn's Barclay's Centre on Saturday night against Leo Santa Cruz (32-1- 0) for the WBA Featherweight World Championship would see the Tigers Bay man win a world title in a second weight class, and lift a third world title belt overall after unifying belts at Super-bantamweight. Steve Collins is the only man from this island to ever win world titles at two different weights, and no one from Northern Ireland has done it.
History is there to be made - it's the biggest fight involving an Irish boxer since Collins took on Eubank back in 1995, and a win would introduce Carl to the American audience in a massive way and lead to even bigger fights - and paydays - down the line. It would also leave the Tiger's Bay man with a rich legacy already confirmed long before retirement. Win on Saturday, and Carl will be in the conversation for the best Irish fighter of all time.
That label at present probably goes to his manager and mentor - hall of famer Barry McGuigan. Another interesting little caveat to this contest is that Carl is trying to capture the WBA title which Barry famously won off Eusebio Pedroza back in 1985. Talk of fate or destiny in that respect isn't driving the camp but it's clear that Carl does have legacy on his mind.
"This fight creates history," he told me at yesterday's press conference. "This is one that people will talk about for a long time...30 years after McGuigan beat Pedroza, they still talk about that back home. I want it to be the same. I don't want people to forget about me in two or three years time, I want people to remember me as a great fighter. Legacy now is a big deal to me."
That press conference in a plush Manhattan hotel was perhaps one of the most courteous ever held in the sport's history. While Carl is one of the most gregarious and pleasant men in boxing, his opponent on Saturday could rival him in the likeability stakes. Leo Santa Cruz doesn't have Frampton's sharp wit (Carl told American reporters the Irish fans at home would be staying up late to view the fight on TV fueled by Buckfast rather than coffee), but he is an extremely nice fellow. Full of polite smiles and sincerity, you'd be happy enough if your daughter ended up with him.
That shouldn't mask his abilities though. The unbeaten Mexican is a three weight world champion and is a strong favourite with the bookies to win. He's a volume puncher and will not sit back like Scott Quigg did in Manchester last February. With judges tending to favour the busier fighter, and the reigning champion, you get the feeling Frampton won't get the decision if this goes to a close call on points. A stoppage or knockout will likely be needed to bring the belt to Belfast.