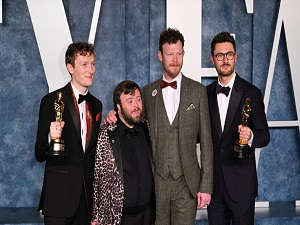 Rebecca Black (PA)
The team behind the Oscar-winning short film An Irish Goodbye has said it is looking forward to basking in its success with a cinema tour of Ireland.
Ross White and Tom Berkeley, who wrote and directed the film, are due to fly home from Los Angeles on Thursday after a "whirlwind" experience.
The prestigious Vanity Fair Oscars Party was among the events they attended, and the pair said their gongs served as a calling card, bringing over celebrities they counted as heroes to greet them.
"There has not been a lot of sleep in the last few days, there has been a lot of tears, celebrating, dancing and shouting," White told the PA news agency.
"We'll be back for St Patrick's Day, we're buzzing to get back to Belfast to celebrate it."
Berkeley said: "It's been a real whirlwind, being in those rooms is bizarre, particularly the Vanity Fair afterparty, it was such a small room and it felt like everyone apart from us was stratospherically famous, everywhere you turn, you're setting eyes on one of your idols.
"Luckily we had the boys (their Oscars) with us, so that was a good calling card, that little shiny man is magnetic and people would come over to say congratulations and strike up a conversation with you.
"People were excited to meet us and hear about what things we wanted to go on and do next.
"The industry, especially in America, puts a lot of weight behind the Academy Awards, particularly for emerging film-makers, they look to that as the young blood coming through.
"Hopefully we can capitalise on those opportunities because there are lots of things that we want to do. We don't want this to be the last interaction with this (Academy Awards). We want to end up there again."
One of the leading stars of the film, James Martin, has been dominating headlines after becoming the first with Down's syndrome to win at the Academy Awards.
White said representation is important, but added: "James's role isn't about his disability, it's not enough just to lump someone in front of the camera, we have to write an interesting part to get an actor like James interested and excited for it."
Asked whether they realised as they were filming An Irish Goodbye how well it would do, Berkeley said they felt a spark and love within the crew and cast.
"The first moment we got Seamus (O'Hara) and James together in a room, there was something really special about their relationship and their rapport they were able to build very quickly," he said.
"It felt like that chemistry was going to drive the film into the place it got to, we were aware it was something special, but we never thought it would get this far."
An Irish Goodbye was partially crowdfunded, as well as receiving help from NI Screen, but White and Berkeley also had to teach at the weekends in order to support themselves, and hope the award will ease the process in the future.
White said while they have projects to move on to, they want to "bask in the glory" of the Oscar win in the coming weeks.
"We're doing a big cinema tour of An Irish Goodbye, and we're really excited for that," he said.
"We're coming back to Belfast, and then we're in Dublin on March 24-25."
Berkeley said they will be doing special gala screenings, including Q&A sessions with the cast and crew.
"There has been a lot of interest from people asking when they can see the film, so we wanted to give people the opportunity to see it in a cinema," he said.
Among their next projects is The Golden West, about two women who flee the Irish Famine in 1849, to go to the United States to join the gold rush.
"We're calling it a bit of an Irish Western, and it stars Eileen Walsh and Aoife Duffin," Berkeley added.
"In terms of the rest of this year, we're talking about scurrying away to a little remote house to get back to writing, and hopefully write a debut feature, we've got a couple of things we want to have a look at."
Details of the cinema screenings of An Irish Goodbye can be found at https://www.floodlightpictures.co.uk/screenings.
Left to right, Ross White, James Martin, Seamus O'Hara and Tom Berkeley attending the Vanity Fair Oscar Party held at the Wallis Annenberg Centre for the Performing Arts in Beverly Hills, Los Angeles, California (Doug Peters/PA)