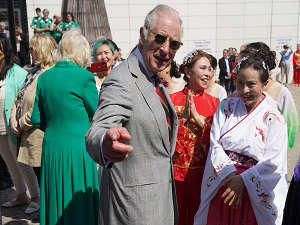 Gráinne Ní Aodha and Claudia Savage (PA)
The King has thanked Armagh for the warm welcome he and the Queen received during the second day of their visit to Northern Ireland.
Charles attended a service at St Patrick's Cathedral attended by various religious leaders while Camilla visited the Armagh Robinson Library and Museum, which is home to a number of local archaeological items.
At the library Camilla met children from Drelincourt Primary School and volunteers from Dementia NI, before signing a commemorative photograph for the museum.
Among the church leaders who gave readings at the service were Church of Ireland leader Rev John McDowell and the leader of the Catholic Church, Archbishop Eamon Martin.
They both met young school children, including two eight-year-olds sporting hand-made crowns called Charles and Camilla on cathedral grounds.
The King and Queen also met members of the Methodist College Belfast choir, who sang at the coronation in Westminster Abbey.
The royal couple then shook hands with several artisan food producers and were given various gifts by members of the public while a cultural performance took place on a stage at Market Theatre Square.
Among those lining the path to the stage were four figures with large heads, representing legendary and historical characters associated with Armagh: warrior goddess Queen Macha, St Patrick, High King of Ireland Brian Boru and warrior Cu Chulainn.
They also met with performers who gave a showcase of Ulster-Scots, Irish, Chinese and South Asian cultures through traditional music, song and dance.
As the couple joined the Lord Mayor of Armagh Paul Greenfield on stage, Charles addressed the crowd and thanked the community for its hospitality.
"I did just want to say before we leave that it's been the greatest pleasure to join you here today," he said.
"I realise it was 23 years ago since I was last here, and I think opened The Market Place building, which I'm so pleased to see is still going strong and I hope making a huge difference to Armagh.
"But if I may say so it's been particularly special to meet so many of you today, also a large number of school children whose exams, I suspect, we have totally disrupted.
"But I've told them that if they don't pass their exams, it's bound to be my fault," he joked.
"But thank you so much for the warmth of your welcome and indeed for showing us just what an enormously diverse, and a number of cultures and traditions there are here now in this part of Northern Ireland."
He said this "provides such an extra richness and contribution to the whole of society here".
"So I do hope you have great success in the future and we look forward to seeing you again before too long, I hope," he concluded.
Charles and Camilla then met with some people gathered along the road, waving Union flags and bearing gifts.
They shook hands Rebekah Busby and gave her golden-doodle Teddy a pet, who had chewed through his lead while waiting for the royals to walk by.
"We've been here since 8.50pm, so it's a long stretch for my doggie, but we managed didn't we Teddy?
"[Camilla] said 'he's absolutely lovely'. I think the King said 'Oh my goodness, look at this dog!'"
She described the atmosphere as "unreal", and that they would go for ice cream after the royals had departed for their next engagement.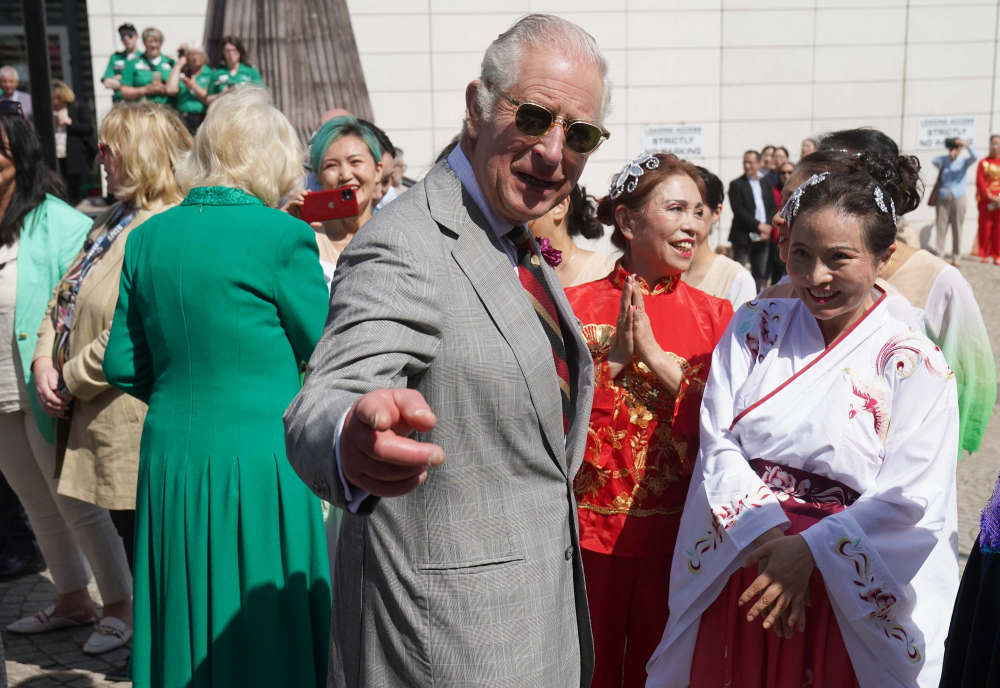 King Charles III and Queen Camilla during a visit to Market Theatre Square, Armagh, Co Armagh, as part of a two day visit to Northern Ireland (photo by PA)