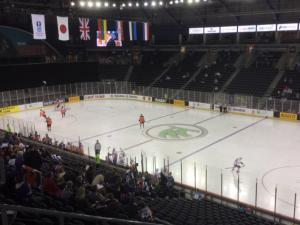 By Adam McKendry
Croatia picked up their first win of their IIHF World Championships Division 1B campaign, defeating Holland 6-2 thanks in large part to a 21-second three goal salvo in the first period.
After Ivan Jankovic gave them the lead at 01:59, storming the crease and finishing smartly past Fabian Schotel, the Croatians went goal crazy, effectively sealing victory by the first intermission.
Borna Rendulic got the second at 13:29 with a powerful slapshot, Matija Milicic added a third at 13:41, cutting inside and firing high into the net from a face-off, and Luka Jarcov's tap-in at 13:50 from David Brine's unselfish pass completed the quick-fire scoring.
With the SSE Arena incredulous at what they had just witnessed, Holland quietly pulled Schotel from the game, replacing him with Sjoerd Idzenga to try and stem the flow.
Idzenga got them to the intermission without any further damage, but at 21:35 Croatia struck again, Rendulic going up the middle and sliding it to the unmarked Mislav Blagus who slammed the puck home.
The Dutch finally got a response when Raymond van der Schuit finished off a flowing move, firing a high wrister past the solid Mate Tomljenovic from the slot at 37:25.
The third drew even more action, with Rendulic winning a penalty shot after being hacked down in the process of rounding Idzenga at the crease, only for the netminder to come up big and save his second effort with his left pad.
And then Holland got another one back, van der Schuit again the one finishing at 53:25, tapping in at the back post on a 5-on-3 powerplay.
But the Dutch found themselves guilty of committing too many men forward late in the game and Croatia notched a shorthanded goal, captain Rendulic making up for the penalty miss by finishing a one-on-one at 58:31.
In the day's early game Japan kept up their 100% record with a 6-2 win over Estonia, while the final game will see Great Britain put their unbeaten record on the line against Lithuania at 7:30pm.