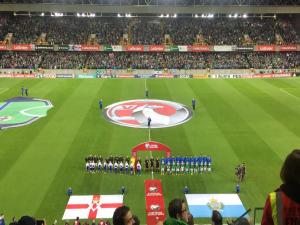 Northern Ireland put four past 10-man San Marino but needed 35 efforts and an 11 minute flurry of goals to do so
While Northern Ireland will be pleased with their comfortable World Cup Qualifier win over San Marino, it wan't all plain sailing. The European minnows from the Italian enclave were still only a goal behind with 11 minutes to go. If a famous result over Germany is to even be considered, what minimal chances they give Michael O'Neill's men will need to be converted.
Make no mistake about it, Northern Ireland were comprehensively better than a San Marino side, some 170+ places below them in the FIFA Rankings. The final score in no way flattered them. In fact the San Marino goalkeeper Aldo Simonceni could arguably have laid claim to a man of the match accolade had it not been for a late flurry of goals. To orchestrate 35 efforts in a game may make the home side look a little wasteful, but it is also testament to their creativity.
The National Stadium was officially opened before the game, after a parade of athletes, former players and of course ex-corrie actor Charlie Lawson. The first minister was also present, joined by FIFA President Gianni Infantino to welcome the new facility
Stadium looking well. Fans in full voice ahead of kickoff #GAWA #WorldCupQualifier pic.twitter.com/kE9UGdZAnl

— Q Radio News (@qnewsdesk) October 8, 2016
Pomp and festivities aside, there was some football to be played. Ahead of kickoff, Michael O'Neill's team sheet confirmed that Norwich striker Kyle Lafferty would not start due to lack of games. He has found first-team football nigh-impossible to come by with the Canaries, but Lafferty respected Michael O'Neill's decision to allow Josh Magennis to lead the line, with the manager later adding that Magennis had earned his chance..
It was a big call from O'Neill given that his side had failed to score in five of their last six games, but the visit of San Marino was always going rectify that. In three games between the two, Northern Ireland have now put a total of 11 goals past San Marino. The writing was on the wall after kickoff, with Northern Ireland camped in the San Marino half for most of the first 20 minutes.
There were occasional flashes of San Marino turning the game into a contest, a rare venture forward leading to a San Marino corner. Adolfo Hirsch also went close, narrowly shooting over the bar
It did open up counter attacking options for Michael O'Neill's men, with Magennis heading over early on. It was still 0-0 approaching the quarter of the hour mark, with O'Neill on his feet as his side searched for an opener..
The deadlock was eventually broken when the, brilliant on the night, Steven Davis dispatched a penalty on 26 minutes, although Simonceni did manage to get a hand to it. Northern Ireland started to turn the screw after that, but were unable to add to their tally before halftime.
Man of the match Steven Davis #GAWA pic.twitter.com/p2ayi0xRzG

— Q Radio News (@qnewsdesk) October 8, 2016
Any hope that San Marino had, that they might be able to take any positives from the game, quickly evaporated early in the second half. Palazzi was sent-off for a second bookable offence, cue the Northern Ireland onslaught.
Dallas, Magennis and Davis were among the numerous green-shirted efforts that were constantly denied, by either profligacy or Simonceni. Northern Ireland Keeper McGovern became a virtual spectator, regularly he was the only man in the Northern Ireland half.
73mins- McGovern the loneliest man at Windsor pic.twitter.com/FR9clw2Ht0

— Q Radio News (@qnewsdesk) October 8, 2016
On 70 mins O'Neill sent Lafferty on, allowing the Norwich man to join the relentless green and white attack. Simonceni was kept consistently busy, dealing with most that came his way.
Then on 79 minutes Lafferty met Niall Ferguson's cross, his goal met with a collective exhale from the home fans. Whatever resolve San Marino may have had, swiftly dissipated.
Jamie Ward made it three on 85 minutes , before Lafferty scored his second in stoppage time immediately before the final whistle. Northern Ireland had a win that adequately reflected their dominance. They now sit third in World Cup Qualifying Group C, behind Germany and Azerbaijan.
Lafferty's second and Northern Ireland's fourth #GAWA #WorldCupQualifier pic.twitter.com/kfTctismwB

— Q Radio News (@qnewsdesk) October 8, 2016
After the whistle, Michael O'Neill was happy enough with the result, however he did concede that the Germans will not offer up too many opportunities on Tuesday. Jochim Loew's side are no mystery to O'Neill, having met them at the Euros in the summer. O'Neill hopes to draw on that game in Paris to plan for Tuesday.
He also had plenty of praise for man of the match Steven Davis, with O'Neill agreeing that the Southampton man, doesn't get the recognition across the water that he perhaps deserves. Davis provided a superb fulcrum for almost every Northern Ireland attack and could have easily added to his penalty.
Davis reiterated the thoughts of his manager ahead of the Germany game, pointing out that they will have to be much more clinical in Hannover if they are to have any chance of claiming a famous result. Kyle Lafferty has certainly given O'Neill a question for that game with his two goals from the bench.
While O'Neill wouldn't be drawn on his team selection for tomorrow, it looks again like Lafferty won't start on Tuesday. However the former Rangers man throws up somewhat of a conundrum for the manager. If he continues to score goals for the national side, he cannot really be ignored. Lafferty now has 9 goals in his last 11 qualifiers with Northern Ireland.
Michael O'Neill says Magennis deserved his chance to lead the line #GAWA pic.twitter.com/5lZkYSMOJt

— Q Radio News (@qnewsdesk) October 8, 2016
After the game, Lafferty said O'Neill's decision was a tactical one, one that he fully respected. Lafferty is fully aware of his problem with a lack of first team football, and said it was 'early days' regarding a move in January. His club woes aside, he at the very least adds good attacking depth to the national side, and continues to give no less than his absolute commitment to Northern Ireland. He now sits on 19 goals for Northern Ireland.
4-0 on the night was fully deserved, and three points in qualifying is never to be taken lightly. However, when you're taking on the current world champions, you aren't given much in the way of an opening. Northern Ireland's attack will have to be much more ruthless.
Lafferty respects O'Neill's decision not to start him. Happy to get on the scoresheet twice pic.twitter.com/4cJc3JLBsi

— Q Radio News (@qnewsdesk) October 9, 2016