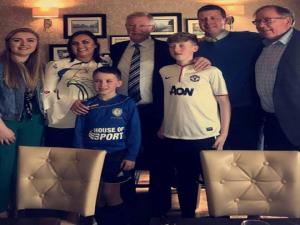 Pat McGibbon and family with Sir Alex Ferguson with his brother Martin
Q Radio Sport
Sir Alex Ferguson has praised the groundbreaking work of a County Armagh charity dedicated to helping young people improve their physical and mental health through sport.

The Manchester United legend yesterday met players from the Train to be Smart football teams in Lurgan, then gave a keynote address at a mental health awareness event in Craigavon.

The day's events were organised by Pat McGibbon, the founder of the charity and a former Ferguson player at United.
He started it in tribute to his brother Phillip who took his own life during Pat's time at Old Trafford under Ferguson in the 1990s.