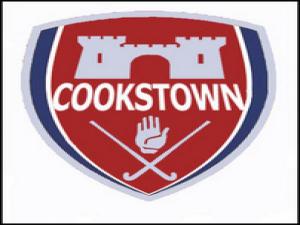 In hockey, Cookstown are keen to get back on track.
In hockey, Cookstown are putting their Boxing Day defeat firmly behind them.
They defeated Annadale 3-1 at the weekend.
It was sweet revenge for their Kirk Cup final bashing.
They were beaten 8-1.
Now they face North Down this Saturday.
Here's Greg Allen:
MATCH REPORT
Cookstown 3 Annadale 1
First blood was drawn by Cookstown on Saturday in their head-to-head fight for the Ulster Premier League title with Annadale.
Both teams were unbeaten in the league going into this match at Steelweld Park with the only dropped points for both sides being their 3-3 draw at Carryduff in the opening game of the season.
As if the match did not have enough pressure on it, Dale's decimation of Cookstown in the Kirk Cup final little over a week beforehand left this rivalry raw and poised on a knife edge.
Thankfully for those in red, Cookstown were able to overcome a stiff Annadale challenge and emerge 3-1 winners.
"We were devastated by the 8-1 loss in the Kirk Cup, but we were determined not to let that result take us away from doing what makes us a good team, to play our game and not let the idea of 'revenge' get to us," said Cookstown captain Greg Allen.
"I am delighted that we were able to get the win even if we were a little bit wasteful in the first half.
"We really wanted to win a medal on Boxing Day, but this result is probably the more important if we want to get ourselves back into the EY Hockey League.
"What I will be telling our lads from now on is that the job isn't over. All we have done is put ourselves in the driving seat. We cannot be negligent. Dale will be going all guns blazing to win every game that they have left and we will have to as well."
On Saturday, Cookstown put in a better start than that of the Kirk Cup final, moving the ball well and running hard at the Annadale defence.
The midfield of Johnny Ames, Ewan Butler and Keith Black were very disciplined and limited the Carryduff men to only a few chances.
At the other end Cookstown were - as most have come to expect - dynamic, but despite their clear advantage the final pass was lacking and they couldn't force home their chances.
It was Annadale who took the lead at the beginning of the second half. A quickly taken free created the space for a superb pass into the danger area which Fergus Gibson finished despite being surrounded by Red defenders.
Cookstown kept to their task and equalised soon afterwards. Keith Black smashed the ball into the Annadale circle and Andy McWhirter got the slightest of touches to turn the ball home from the top of the circle.
The goal acted like something of a pressure release for the Reds who suddenly looked like they knew the three points were there for the taking.
Nevertheless it took the remainder of the half for them to convert their dominance into goals. With four minutes remaining brilliant work from Black saw him play a one-two with Mark Crooks whose snapshot reverse pummeled through Annadale's goalkeeper Johnny Moore.
With so much on the line, Moore was withdrawn by Annadale leaving them lacking at the back. McWhirter robbed their centre back and, with the goal at his mercy, was dragged down. Thankfully, the umpire played an advantage which allowed Greg Allen to tap home into an open goal to confirm the win.
Cookstown: Tobi Depperman, Matthew Rollins, Ryan Millar, Godfrey Irwin, Paul Thompson, Ewan Butler, Mark Crooks, Jon Ames, Andy McWhirter, Greg Allen, Cole Chambers, Stuart Smyth, Keith Black, Dan Crooks, Michael Kerr, Timmy Sloan
Solo Fuels Man of the Match: Keith Black
This Saturday, Cookstown travel to Comber to take on North Down at 4pm.