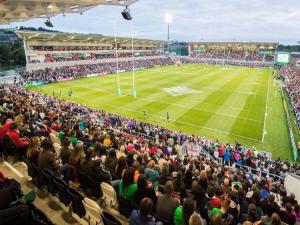 Deborah McAleese, Press Association
There were tears and cheers as the Red Roses failed to bloom in the final of the Women's Rugby World Cup.
Their team may have lost but England fans swallowed their disappointment and joined in the celebratory cheers of the triumphant New Zealand supporters on Saturday night.
However, a few tears were also shed by England fans at the final whistle as the Kiwis emerged with a 41-32 win.
"I feel drained. I went through so many different emotions during the game. Of course I'm gutted we lost but New Zealand were the better team," said Sara Wilson from Bristol.
Andy Whyte, from Southampton, added: "It was a very good game. In the first half I was sure it was going to be an England victory but New Zealand came back fighting. Both teams did well."
Canadian Cheryl Christensen, a New Zealand supporter, said she was too nervous to watch most of the second half.
"I was watching most of it with my hands over my eyes. That second half was awesome," she said.
New Zealander Jeremy Elliott added: "I knew we'd win all along. What a game."
Earlier the excitement at Kingspan Stadium in Belfast was at fever pitch amongst die hard rugby fans from across the globe as one of the biggest events in women's sport kicked off.
While most fans were dressed in their teams' colours of either white or black some opted for more colourful attire.
A group of players from North Shields Rugby Club donned wrestling outfits to celebrate the 50th birthday of their team mate Fenwick Taylor.
"We're all here for my birthday. My best birthday present will be an England win," said Fenwick ahead of the game.
Bryony Cleall, whose sister Poppy Cleall is in the England squad, said: "I've been here for the whole tournament. It has been great," she said.
Kim Eades, Deborah Stephenson and Carrie-Ann Downs from Scotland travelled to Belfast to support the New Zealand All Ferns.
"New Zealand are going to win for sure," said Deborah.
Rhiarna Ferris, who plays for the New Zealand Women's Sevens team said it would be a tough game, but was confident her national team would come away victorious.
"We are definitely going to get it in the end. It'll be close but we have to be confident, don't we?" she said.
This is the first time the Women's Rugby World Cup has been hosted by the Irish Rugby Football Union (IRFU).