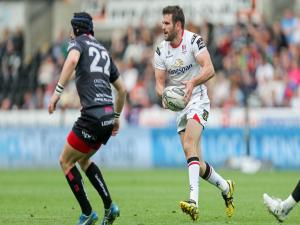 By Simon Hunter
Former Ireland back Jared Payne has been named as the new defence coach at Ulster Rugby.
The 32-year-old picked up a head injury on the British and Irish Lions tour of New Zealand in summer 2017, and having failed to recover fully from it, he's announced his retirement from playing.
Originally from Tauranga in New Zealand, Payne represented Ulster on 78 occasions and earned 20 Ireland caps.
Commenting on his new role, Jared said:

"It's been a good ride but unfortunately every good thing has to come to an end. Playing rugby has taken me to places I never thought I'd see and allowed me meet people I never thought I'd meet.

"Firstly, I'd like to thank my parents for all their help in my younger years and my brother Josh for being a live tackle bag! Thanks also to the coaches and team mates throughout the years that have made living this dream possible, and to the staff, volunteers and fans that make game days so special. The support that I've received from my partner Chrissie and sons Jake and Tyler, particularly over the past 12 months, has been incredible.

"I would like to thank all of the medical professionals who have supported me since my injury occurred back in June last year. I'm extremely grateful for your considerable care and attention.

"While I will undoubtedly miss the buzz of running out with mates every weekend, I have to listen to the medical advice and unfortunately give up the dream. However, I've surprised myself how much I have enjoyed coaching and I'm really looking forward to getting my teeth into this role on a permanent basis.

"Finally, I'd like to thank the management here at Ulster for giving me the opportunity to contribute in this way and I look forward to trying to repay the faith shown in me."

💬 Jared on his retirement from playing professional rugby and the opportunity to move into coaching... pic.twitter.com/37q1kSdGmz

— Ulster Rugby (@UlsterRugby) May 28, 2018
Bryn Cunningham, Ulster's Operations Director, commented:

"It is with sadness that we have to accept that Jared's days of playing professional rugby are behind him. He was a fantastic player who was exceptionally gifted, having had a huge influence in the game in both attack and defence.

"While we will lose Jared's ability on the pitch, we now gain another astute rugby brain on the sidelines. We have known that this would be a potential outcome for some time and integrating him into the coaching side of things over the past few months it has proved to be very successful. The positive feedback from senior coaches within Irish Rugby and players themselves is testament to the early impression he has made."

David Nucifora, IRFU Performance Director, added:

"It is unfortunate that Jared's playing career has been cut short as he was such a positive influence for both Ulster and Ireland. We are delighted that he has joined Ulster's coaching group as he has the rugby intellect to thrive as a coach and has illustrated his credentials and potential with Ulster over the past few months.

"As an investment in his development Jared will spend some time with the Ireland set-up on the summer tour to Australia working with the national coaches."

Charlie McEwen, Chief Operations Officer of British & Irish Lions, said:

"We are sorry to hear that Jared has had to retire from playing rugby. We would like to thank him for his contribution to the Lions Tour to New Zealand in 2017 and wish him all the very best in his new career as Defence Coach with Ulster Rugby."