Q Radio Sport
Glentoran Women have been awarded wins from two games when their scheduled opponents Derry City were unable to field a team.
It means the Glens moved six points clear at the top of the Danske Women's Premiership.
NIFL has issued the following statement:
The NI Football League can advise an update regarding the Danske Bank Women's Premiership.

The NIFL Women's Premiership Management Committee met on Monday evening (16 November) at which a sub-committee was established to consider the status of the three rescheduled games in November in which Derry City Women were unable to field a squad.

These fixtures are:

Glentoran Women v Derry City Women (4 November 2020)
Crusaders Strikers v Derry City Women (11 November 2020)
Derry City Women v Glentoran Women (18 November 2020)

With all other Women's Premiership clubs participating in scheduled fixtures in November the sub-committee deemed Derry City in breach of Rule 15 (b) of the NIFL Women's Premiership Rules & Regulations 2020 with regards to games scheduled 4th, 11th & 18th November.

All fixtures are to be deemed as forfeits with three points accredited to the opposing team and a score line of three goals to nil awarded to the opponents.
Here's the revised table:

So with the Glens game v Derry off, there are two Premiership fixtures on Wednesday night - Cliftonville against Crusaders and Sion Swifts against Linfield.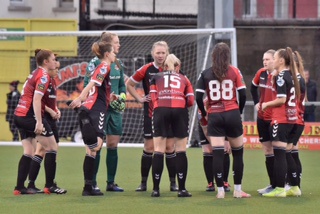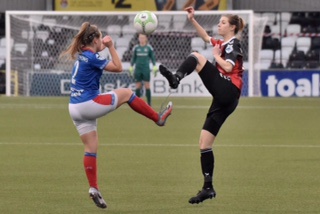 The last match in the league was a Belfast derby on Sunday, with Linfield edging out Crusaders Strikers 1-0 at Seaview. This report from Rosie McKee:

Due to the Covid 19 pandemic this rearranged match between Crusaders Strikers and Linfield Ladies is a month after its original date. Strikers held Sion Swifts to a draw away from home and are showing great form. Linfield Ladies have just come off a dramatic win against Cliftonville so have been playing well too. Strikers started vigorously with a burning desire to avenge the 2 nil defeat to Linfield, at the start of the season, but Linfield were equal to it.

On a wet November afternoon both teams were hungry for the three points to climb the Danske NIFL table. Both teams were attacking and taking shots either wide or saved by the keepers. This was a feisty affair and both teams received yellow cards and free kicks in their own halves. Linfield showed their experience by lifting the tempo near the end of the first half. Crusaders Strikers defended stoically and seemed to have it under control. However, Linfield's Abbie Magee was showing her class by making more space and an impressive solo run was only stopped by Crusaders' Julie Nelson. In stoppage time, Magee dashed down the wing and crossed an inch perfect cross into the middle of the box. Linfield's number 10, Alison Smyth, was unmarked and placed it in the corner, 0-1 to Linfield Ladies.

The second half started with a flurry of yellow cards, one to Strikers' Holly Johnston and then Linfield's Abbie Magee. Both sides were cancelling each other out in the middle of the pitch as Crusaders Strikers pressurised for an equaliser. Linfield continued battling for a second and had some strong runs from midfield by Rebecca McKenna and Ebony Lecky down the right wing. Julie Nelson nearly levelled with a long distance free kick but her shot was just over the bar. In the last few minutes Strikers were claiming a back pass by Linfield. Nothing was given and the last shot of the match was by Crusaders' Lisa Armour but saved by Linfield's keeper.

The match ended 1 nil to Linfield. Crusaders Strikers move on to their North Belfast derby at Solitude while Linfield take on Sion Swifts. Strikers will be frustrated with no points but Linfield will be happy to have joined the leaders at the top of the Danske NIFL table - with only a few matches before the end of this disjointed 2020 season the winner is difficult to predict.