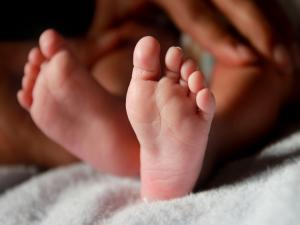 Rebecca Black (PA)
James and Grace have emerged as the most popular baby names in Northern Ireland in 2022.
While Grace has been the most popular girls' name since 2018, other names appeared to have been influenced by celebrities, with the name North, which Kim Kardashian called her first daughter, registered in Northern Ireland.
In terms of baby boys, James has returned to number one after a six-year stretch at the top spot between 2015 and 2020, and placing third in 2021.
The name Jack emerged a close second to James, after reaching the top spot last year, while the name Noah returned to third place, where it was in 2019 and 2020, after reaching second place last year.
The data was recorded in the Baby Names 2022 statistics published on Monday by the Northern Ireland Statistics and Research Agency.
A total of 20,929 births were registered in Northern Ireland during 2022, with slightly more boys registered (10,687) than girls (10,242).
The statistics showed a greater variety of girls' names registered (2,278) compared with boys' names (1,809), and a much greater range of names registered than 40 years ago, when 1,179 girls' and 668 boys' names were recorded in 1982.
In 2022 Oisin entered the boys' top 10 for the first time since the recording of first names began in 1997, while Thomas re-entered the top 10 after narrowly missing out in 2021.
Hugo, Luca and Hudson were among the names climbing the charts, while some of the less common names given to boys in Northern Ireland in 2022 included King, Great, and Art.
In terms of girls, Emily was the second most popular name in 2022, followed by Fiadh, while Pippa, Nevaeh, and Lucia are becoming more popular.
Some of the less common names given to baby girls in 2022 were North, Angel and Pearl.
A number of babies were named after places, such as Rome, Vienna, Brooklyn, Dallas and India, while others appeared to be inspired by nature, with names such as Poppy, Willow, Lily, Meadow, Ocean, Bear, River, Forest and Storm.
Meanwhile, a number of fairy tale-inspired baby names were also registered, including Aurora, Anastasia, Merida, Jasmine, Belle, Sebastian, Eric and Robin.