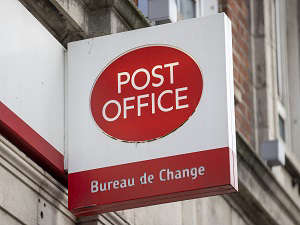 Households have until the 31st march to cash in their voucher
Jonathan McCambridge (PA)
Around 20,000 households in Northern Ireland have still not redeemed their £600 energy support vouchers.
The Post Office said there is less than two weeks left for households that were part of the initial 500,000 rollout to redeem their voucher before it expires at the end of March.
It said that more than 95% of vouchers have been redeemed.
Those who pay their electricity bills by direct debit received the £600 Government support directly into their bank accounts.
However, thousands of others received the payment via a voucher posted to their house to be redeemed at a Post Office.
The money includes a £400 payment as part of a UK-wide support scheme and an additional £200 in recognition of Northern Ireland's dependence on home heating oil.
Electricity companies are being funded directly for the scheme to deliver money to households amid the cost-of-living crisis.
The Post Office said that customers who have had a voucher reissued will have a longer time to redeem them, as these vouchers last for three months from their new issue date.
The scheme has also seen a surge in the number of cash deposits over the counter at Post Office branches across Northern Ireland.
Between January 16 and March 12, customers deposited £347 million of cash into their personal bank account at Post Offices, an increase of 104% from the previous year.
Andrew Goddard, head of payments for the Post Office, said: "The Northern Ireland rollout has reminded people just how important Post Offices are to local communities.
"None of this would have been possible without our postmasters who have been working hard to help people redeem their vouchers quickly.
"The success of the rollout also highlights why Post Office is uniquely placed to handle projects in the bill payment and cash disbursal space.
"We're urging anyone who has not yet redeemed their voucher to do so before the expiry date."
Consumer and Energy Affordability Minister Amanda Solloway said: "We worked at breakneck speed to deliver this support to the people of Northern Ireland, and it's fantastic to see the majority of vouchers issued have now been redeemed.
"This means hundreds of thousands of households have received £600 to help with energy bills, but I urge anyone who has still not yet done so to redeem your voucher so that no one misses out on this vital help."